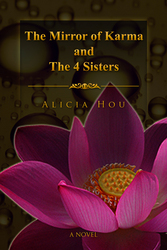 La Puente, CA (Vocus) November 11, 2010
The Mirror of Karma and The 4 Sisters, a new book by Alicia Hou, has been released by Dorrance Publishing Co., Inc.
When the Communists took over China and the strict implementation of the one-child policy was put to practice, the Chinese were greatly affected. Some of them were forced to commit abortion, abandon their daughters (because most of them prefer sons), and flee to other countries, where they were guaranteed with safety and a normal way of life.
Lotus Kingsbury, a Chinese woman, is married to Jim Kingsbury, a Caucasian. They live in Los Angeles together with their daughter, Mimi, and Lotus's daughter from her first marriage, Gi-Gi. For twenty years, Lotus kept her secret that she, in fact, has three more children from her previous marriage with T. X. Chen.
Lotus's secret has been revealed when Gi-Gi consults a fortuneteller. Gi-Gi meets her other siblings, but conflicts occur among them and their mother. With the help of the fortuneteller and the Chinese belief of karma, all the family members get through the turmoil of life.
Chinese tradition, customs, and beliefs—karma, virginity, reincarnation, etc. may be peculiar to some nationalities, but to them, they are unique, lifesavers, and lessons that should be taught in general.
Born in China, Alicia Hou presently resides in Los Angeles, California and works for an insurance firm. Her grandmother, her Chinese upbringing, and her experiences inspired her to write this book, which focuses on the power of karma, family, and friendship. Aside from English, she is also fluent in Mandarin, Cantonese and Spanish.
Per the author's point of view, causing many new born girls missing in China is not the government's fault; it is the consequence of the cruel son-preference culture. Very soon, 25% or more Chinese single male will face difficulties of finding a wife. The author hopes the Chinese parents learn to treasure their daughters from now.
Visit the author's site at http://www.aliciahou.com.
The Mirror of Karma and The 4 Sisters is a 248-page paperback with a retail price of $21.00. The ISBN is 978-1-4349-0728-8. It was published by Dorrance Publishing Co., Inc of Pittsburgh, Pennsylvania. For more information, or to request a review copy, please go to our virtual pressroom at http://www.dorrancepressroom.com or our online bookstore at http://www.dorrancebookstore.com.
###