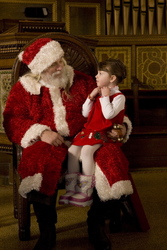 Auburn, NY (PRWEB) November 12, 2010
The breathtaking bounty of The Finger Lakes New York Region continues to be at its peak this holiday season, offering visitors an ample selection of gift, event, lodging and entertainment options. Cayuga County is a prime destination for visitors from Ontario, Canada, and New York City, and is nestled by three of the Finger Lakes—Cayuga Lake (the longest of the Finger Lakes), Owasco Lake, and Skaneateles Lake—as well as the Great Lake Ontario.
The Cayuga County Office of Tourism provides a sampling of favorite, regional specialties, including:
Wine Gifts That Uncork Holiday Cheer All Year Long: Readers of Budget Travel Magazine voted the Finger Lakes Region as the "Most Beautiful Wine Region in the World", but winemaker Nancy Tisch, from Bet the Farm, knows the best is also in the bottle. That's why the Winery and Gourmet Market will ship two reds and two whites to wine enthusiasts three times a year as part of its Wine Club. The selections reflect the seasons, and feature a combination of limited production wines as well as the Market's regional picks.
Share the Joy of Individuality: Spectacular gifts are often one-of-kind. World-renowned Mackenzie-Childs' hand-painted ornaments, nutcrackers, and Santas are just a few of the time-honored artisan crafts that can make perfect keep-sakes, or fill a home with decorative delights during the holidays or all year round. A selection of pottery, home furnishings and other special treasures are handmade in Aurora, NY.
Stroll Into A Dickens' Christmas: Feeling a bit "bah hum bug" during the holidays? Experience the simple pleasures of the season by taking a trip to Skaneateles, NY, during the town's 16th annual Dickens Christmas. Each weekend, from Thanksgiving through Dec. 20, join in the festivities by singing carols, meeting Father Christmas, riding in horse-drawn carriages, and eating fire-roasted chestnuts. Or travel to the historic city of Auburn and partake in the annual "Holiday Traditions" event on December 12. Historic locations and other non-profit organizations open their doors with free holiday happenings including music, seasonal decorations, cookie decorating and more.
Put R&R on Your To-Do List: Santa's not the only one who should make a list to ensure everyone gets what they want. Enjoy the benefits of pampering with an R&R package from one of the many local inns, such as the E.B. Morgan House. Nestled on the shores of Cayuga Lake, this restored landmark in Aurora offers exquisite guest rooms, along with the amenities and services, ideal for a wine country, romantic or special getaway.
Design an Experience: Look at the flip side of the region's lakes by going under water or turning over a new leaf. Finger Lakes Scuba—an International Platinum Training Facility—will get adventurers on their way to certification and into the water for local dives, while The Center for Wellness' 12,000 square-foot facility in Auborn will help visitors take better care themselves. Start with a massage or spa package to melt away seasonal stress.
Check out http://www.tourcayuga.com for more information on any of the above, as well as find other holiday events, happenings, shopping information and special overnight packages. Or, call 315-255-1658/800-499-9615.
About the Cayuga County Office of Tourism
The Cayuga County Office of Tourism is the designated Tourism Promotion Agency for Cayuga County and promotes the County's attractions, events and lodging establishments. For more information call 315-255-1658/800-499-9615 or visit http://www.tourcayuga.com.
###