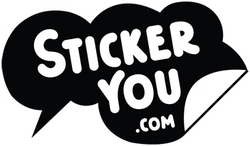 "The power of a personalized gift is very appealing. Our easy-to-use online "Sticker Maker" makes stickers and labels personable" said Andrew Witkin, President of StickerYou.com
Toronto (PRWEB) November 11, 2010
StickerYou, the leader in online stickers, is proud to announce a personalized sticker and label solution for holiday gift giving. This busy holiday season, make it easy, save time and create personalized holiday gifts and greetings.
For the first time ever, StickerYou makes gift giving even more personalized with professional quality stickers and labels that are sure to impress. Upload your very own photo, design or image to create one-of-a-kind, personalized stickers, or even create your own gift tag or (address) labels.
The perfect stocking stuffer for kids any age – Kids Stickers
Stuff your stockings this winter with ('one of a kindness') custom stickers from StickerYou. Using a fun and simple to use "Sticker Maker", make the perfect page of stickers for a child of any age. Personalize stickers with the name of the child, color, style, and image. Design possibilities are endless. Delight your loved one with stickers for their iPod, their sports equipment, their favourite books, even for their bedroom door. Include a few stickers of their favorite characters from BatmanTM to Little MissTM, or their favorite sport, letters or number stickers. Upload their photo or art creation and surprise them with their very own art or photo stickers. The personalized stocking stuffer sticker possibilities are endless. The power to make ideas stick is in your hands. StickerYou also provides countless ready-made sticker sheets with popular characters of video games, movies and children's shows.
Custom Stickers for Holiday Cards, Gift Tags and Return Address Labels
For the first time ever StickerYou makes gift giving and sending even more personalized with professional quality labels. Rather than spending hours writing your return address labels or gift tags do it within a matter of minutes. Using our custom Sticker Maker technology, easily create high-quality stickers in less than 5 minutes that can be stuck/applied to any surface. Upload your own pictures, designs or images to full customize your holiday stationary needs. Send your holiday cards with a personalized sticker, or add a fully customized return address label to your envelopes. Put that personal touch on a gift for that special someone with customized gift tags, personalized labels and ready-made return addresses labels at only $7.99 per sheet.
Preserves like your mom used to make – Make Custom Food Labels
StickerYou is ideal for food labeling. For those who are canning their own jam, sealing their own sauce or preserving their own pickles, they can now create their own personalized food labels from the convenience of their own computer!
StickerYou has recently partnered with Bernardin, one of the world leaders in preserves to offer a labeling solution for its customers. Using StickerYou, culinary designers and home chefs alike can select their personalized text, font, colors, and graphics or even upload their own images to create their custom label designs that are used when gifting home canning creations. Messy handwriting is a thing of the past and today's sleek, easy-to-read labels are all-the-rave.
"The power of a personalized gift is very appealing. Our easy-to-use online "Sticker Maker" makes stickers and labels personable" said Andrew Witkin, President of StickerYou.com. "People have an easy time ordering online when it is convenient for them, and they don't have to spend time shopping to make the most personalized gift."
Why Use StickerYou?

Fully Personalized – StickerYou allows you to use any picture, image or design to express yourself in sticker form.
High Quality – StickerYou uses cutting edge technology that creates removable, weather-resistant, dishwasher and microwave safe, vinyl die-cut labels to suit every need.
Saves You Money – Rather than continually spending money on ink and labels, StickerYou can print it out cheaper than you could print at home. There is no minimum quantity or set up costs and the labels are affordable.
Die-Cut – Instead of using preset sizes and shapes for your stickers, StickerYou allows you to customize precisely around the design of your label or sticker.
Fast Shipping – StickerYou prints out your order within 24 hours of you sending it. That means within a day your order is en route to you. StickerYou ships across the world.
About StickerYou
StickerYou is the best custom sticker platform in the world. It's a fun, flexible and easy-to-use online technology for people to create their own high-quality vinyl stickers. StickerYou offers the ultimate freedom to create stickers with our freeform die-cut sticker printing. Whether you're using our art and brands, or uploading your own images, each sticker looks awesome! StickerYou is a Toronto based startup that developed the Sticker Maker, a simple web-interface that allows people to order custom stickers. StickerYou has been quickly partnering and licensing with such brands as Coke, Ford, DC Comics, Star Trek and Bernardin, among countless others.
Available for interviews:
Andrew Witkin, President of StickerYou
Follow StickerYou on Twitter @StickerYou
# # #