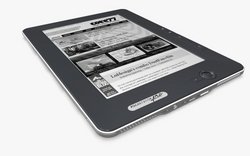 All PocketBook models have unique firmware, allowing great degree of customization and entertainment... The brand new feature – Text-to-Speech, allowing listening to your e-books in more than two dozens of world's languages
New York, NY (PRWEB) November 12, 2010
PocketBook Pro 602, PocketBook Pro 902 and PocketBook IQ 701 are three new models, available for sale at http://www.PocketBookReader.com.
PocketBook 602 sports 6-inch E-Ink screen, while the PocketBook 902 has a bigger 9.7-inch. Both of them feature 2GB of internal storage, a Linux-based OS, and include WiFi and Bluetooth connectivity. PB602 and PB902 are priced at $179.99 and $299.99 respectfully.
A genre-bending "entertainment model" PocketBook IQ 701 comes in three case color options, features a 7-inch TFT color touchscreen, Wi-Fi, Bluetooth, and runs Android 2.0. It allows reading color books and magazines, while checking your emails and surfing web at the same time. It will set you back only $149.99.
All PocketBook models have unique firmware, allowing great degree of customization and entertainment: widgets, games, themes, news, notes and dictionaries. The brand new feature – Text-to-Speech, allowing listening to your e-books in more than two dozens of world's languages.
PocketBooks' native support of all languages and text encodings (including right to left, Asian characters, Cyrillic, etc) could be very appealing for non-only-English readers in such linguistically diverse market as the USA.
All new models have direct access to PocketBook's own Bookland.net e-book store with 200,000+ paid and 70,000+ free ebook titles.
###