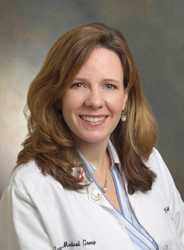 Berkeley Heights, NJ (Vocus) November 11, 2010
The American College of Cardiology (ACC) has selected Whitney L. Gaydos, P.A.-C for advancement to Associate of the American College of Cardiology (A.A.C.C.) status.
Ms. Gaydos was selected for the advancement on the basis of her professional activities, including board certification as a physician assistant, professional training and service to the ACC. The new designation is a reflection of her commitment to quality cardiovascular care.
Ms. Gaydos is past president of the New Jersey State Society of Physician Assistants, a liaison to and an associate of the American College of Cardiology, and a member of the Association of Physician Assistants in Cardiology. Her professional experience includes cancer research, internal medicine, and emergency medicine. She has been an enthusiastic participant in the Overlook Hospital Internship program, which encourages health care providers and other professionals to share knowledge and experience with college students. Noting patient education as the most rewarding aspect of her work, Ms. Gaydos teaches her patients about treatment options and helps them reach their personal health goals.
Ms. Gaydos is the recipient of the 2008 New Jersey State Society of Physician Assistants Outstanding Physician Assistant of the Year Award and the Overlook Hospital ACE Award for employee excellence.
ABOUT THE AMERICAN COLLEGE OF CARDIOLOGY
The American College of Cardiology (ACC) is a nonprofit medical association established in 1949. As the leading professional society for heart specialists, ACC's mission is to advocate for quality cardiovascular care through education, research promotion, development and application of standards and guidelines and to influence health care policy.
ABOUT SUMMIT MEDICAL GROUP
Summit Medical Group (SMG) is the largest privately held multispecialty medical practice in New Jersey. SMG has pioneered information technology advances in health care with its early adoption of electronic health records and e-prescribing. With more than 200 highly qualified providers, it is one of the most unique health care models in the state. SMG has an award-winning customer service program and NJBiz magazine has named it one of New Jersey's "Fifty Fastest Growing Companies". SMG treats more than 55,000 patients per month at its main campus in Berkeley Heights as well as its satellites in Berkeley Heights, Morristown, Millburn, Shorts Hills, Summit, Warren, and Westfield. As one of the East Coast's premier multispecialty groups, SMG has provided exceptional primary and specialty care since 1929. For more information, please visit http://www.summitmedicalgroup.com.
# # #