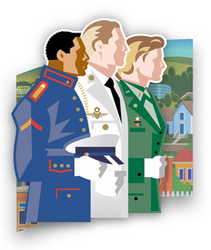 VHDA wants to make sure that our website is a valuable resource for military personnel seeking homeownership opportunities
Richmond, VA (PRWEB) November 11, 2010
The Virginia Housing Development Authority (VHDA) recently added a new landing page to its website, making it easier for active and retired military personnel to take advantage of Veteran's Administration (VA) loans, as well as VHDA's Homebuyer Tax Credit Plus loan and other programs offered by the authority.
VHDA's Military & Veterans Programs page can be found at vhda.com and is the most recent development in a partnership that began in 1998. That was the year VHDA joined with the U.S. Navy to increase homeownership opportunities among Virginia's servicemen and women by regularly offering its Homebuyer Education classes at Virginia military installations.
"Most people don't realize it, but nearly one-fourth of the nation's active-duty military personnel are stationed in Virginia," said Michele Watson, VHDA Director of Homeownership Programs. "Virginia is also home to more than 125,000 retired veterans. VHDA wants to make sure that our website is a valuable resource for military personnel seeking homeownership opportunities."
In addition to easy access to home loan and homebuyer education information, VHDA's new page features a link to Granting Freedom, a grant program that pays for home and apartment accessibility modifications for Virginia servicemen and women injured while serving our country. VHDA partners with several community groups, including the Department of Housing and Community Development (DHCD), to offer this program.
About VHDA
VHDA is a self-supporting, not-for-profit organization created by the Commonwealth of Virginia in 1972, to help Virginians attain quality, affordable housing. Our mortgages are funded by bonds we issue, not state taxpayer dollars, and are available primarily for first-time homebuyers and developers of quality rental housing. We also teach free homeownership classes, and help people with disabilities and the elderly make their homes more livable. VHDA works with lenders, developers, local governments, community service organizations and others to help put quality housing within the reach of every Virginian.
# # #