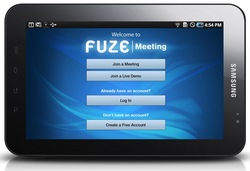 We live and work in a mobile economy and our productivity should not be limited to the four walls of a conference room
San Francisco (PRWEB) November 11, 2010
Today, Fuze Box is turning the Android tablet into a virtual conference room with the launch of Fuze Meeting, the ultimate mobile collaboration platform available for download in the Android Market. With several Android tablets hitting American markets this quarter, eager enterprise customers can rest easy knowing that web conferencing apps are available at launch. The company is also announcing the ability to host online meetings directly from the Android device, set for launch in early 2011.
Fuze Box has become the global leader in mobile collaboration solutions. In September, Fuze Box launched Fuze Meeting for iPad, the first app that allows users to host and moderate meetings directly from their iPad. Fuze Meeting for Android Tablets joins the company's existing platform availability on the iPhone, iPad, Blackberry, Android phone, PC and Mac.
Updated for the tablet launch, this attendee-only app for the Android tablet and phones allows users to:

VoIP into meetings – Users can attend a meeting via their tablet even if they don't have a phone nearby. VoIP is also added to the Android phone app, solving persistent CDMA voice and data streaming limitations.
Content and Desktop viewing – Only Fuze Meeting offers the ability to view a shared computer desktop real-time from an Android device. Attendees are also able to watch and listen to high-quality video and audio – start, stop and pause with the same level of functionality as meeting hosts have.
Share content from the tablet – Once the meeting host designates an Android attendee as a presenter, users can share video or image files by uploading directly from their device.
"We live and work in a mobile economy and our productivity should not be limited to the four walls of a conference room," says Jeff Cavins, CEO of Fuze Box. "Now, members of a sales team on Android tablets, a prospect on an iPad, and a colleague on an iPhone can meet simultaneously and collaborate with unmatched productivity."
Optimized for the Samsung Galaxy device, the app works best on 1024 x 600 tablets for now. Fuze Meeting will continue to optimize resolution for additional display screens as they are released. All functions available for Android tablets are also mirrored on the Android phone app, which Fuze Box originally launched in June. Fuze Meeting for Android is available for free in the Android Market or by scanning the QR code at at http://fuze.me/droid.
About Fuze Box:
Fuze Box is a leading platform provider of real time visual collaboration applications for millions of end users across various businesses. Its applications - Fuze Meeting, Fuze Messenger, Fuze Movie and Tweetshare - allow people to communicate, collaborate and share content from any device, anywhere in the world. Fuze Meeting is a mobile and web-based collaboration service that features integrated audio conferencing as well as high- definition, synchronized video and image sharing. The company's technology is based on a real-time visual communications platform that converges telephony, high-definition, synchronized video and image sharing across the enterprise, the web and mobile networks. The company holds 22 patents and has over 44 more pending in the fields of telephony, web and visual media technologies to transform how professionals and individuals communicate. For more information, please visit http://www.fuzebox.com
# # #