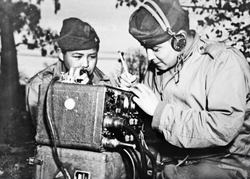 (PRWEB) November 11, 2010
This Veterans Day the Navajo Code Talkers, as part of the Navajo Code Talkers Foundation, will be participating in a number of events throughout America to tell their phenomenal stories and raise awareness of their planned museum project. In addition to appearances in New York and Chicago, they will be in a handful of other states and will have a highway renamed in their honor.
Navajo Foundation President Mr. Keith Little says that "Veterans Day is the appropriate time to share the experiences we had while serving in the US Armed Forces and to talk about the freedom that is cherished by our fellow American citizens."
Mr. Little vividly recalls how "the first 29 recruits, ages 15–17, were selected to create and develop a secret voice communication code in Navajo." He proudly continues, "The code has never been deciphered even though it was declassified in 1968."
By creating the code, these brilliant young men gave the United States the secret weapon they needed to win WWII and change global history. Today, with a median age of eighty-six years old, they are revered elders of the Navajo Nation and respected by people worldwide.
With such a busy schedule and a high demand for appearances, the Navajo Code Talkers are working in teams to be in so many places this Veterans Day. They will be appearing in:

Nevada
Washington state
California
Utah
Arizona
New Mexico (see below)
New York, New York (see below)
Chicago (see below)
New Mexico Highway Dedication
They kicked off their celebrations with the dedication of New Mexico Highway 264 as the Navajo Code Talkers Highway on Wednesday, November 10th. This event was sponsored by the New Mexico State Department of Transportation Commission, and New Mexico Governor Bill Richardson emceed the affair.
New York, New York
The Navajo Code Talkers will ring the opening bell of the New York Stock Exchange in observance of New York City's Veterans Day celebrations on November 11. The Navajo Code Talkers are the invited guests of NativeOne Financial in partnership with Raymond C. Forbes & Co., Inc. From there, they will participate in New York City's 91st Veteran's Day Parade hosted by the United War Veterans Council, Inc. on behalf of the City of New York. The public is also invited to meet the Navajo Code Talkers at the Code Talker reception and book signing on Veterans Day from 3:00–5:00 pm at the Cornell Club, 6 East 44th Street between 5th and Madison Avenues.
Chicago
A small group of the jet-set Code Talkers is also headed to Chicago to attend the Commandant's Marine Corps Ball and celebrate the 235th birthday of the US Marine Corps this Veterans Day. The Commandant's Marine Corps Birthday Ball is the official ball of the Marine Corps. Active duty and retired Marines, their families, and influential national, community, and civic leaders attend this event. It will be held at the Gaylord National Resort and Convention Center on November 13th.
While in Chicago, they will be making numerous other stops including attending the Chicago Blackhawks game on November 10th.
For more information on these events or to find out how you can donate to the National Navajo Code Talkers Museum and Veteran's Center Project please call 480.776.6415 or visit http://navajocodetalkers.org/foundation/
# # #