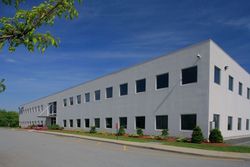 We see this as an opportunity to position the town as a top place to do business in the region
Tewksbury, Mass. (Vocus) November 10, 2010
The town of Tewksbury in recent weeks got a new opportunity to attract business. The Massachusetts Economic Assistance Coordinating Council, part of the Massachusetts Office of Business Development, has approved Tewksbury as a designated Economic Target Area (ETA), which means the town can now offer Tax Increment Financing (TIF) plans and make state-funded investment tax credits available to local businesses.
The ETA designation came about as a result of the Tewksbury Economic Development Committee's (EDC) efforts, which are aimed at enhancing the business climate.
Formed just two years ago, the Tewksbury EDC's mission is to promote Tewksbury's identity in the Merrimack Valley and Greater Boston area. With access to two Interstate Highways, I-93 and I-495, and top-notch infrastructure capacities, Tewksbury is a desirable location for new and existing businesses. Now, with the new ETA designation, Tewksbury has an upper hand in competing for new business. The designation also benefits established businesses in the area – the tax credits apply to existing businesses seeking to expand.
The EDC met in early October to discuss initial plans for the ETA designation and how to use it to attract and retain businesses.
"We see this as an opportunity to position the town as a top place to do business in the region," said Steven Sadwick, Director of Community Development for the town of Tewksbury. "The Economic Development Committee met this week to talk about how we want to actively market the designation."
If the ETA designation isn't a big enough incentive to do business in Tewksbury, the EDC's other major accomplishment to date should be, especially for companies in the biotechnology industry.
After the EDC did strategic outreach, the town was recognized by the Massachusetts Biotechnology Council as a top area in the state for biotechnology companies to do business. Representing more than 600 biotechnology companies and organizations involved with the industry, the Massachusetts Biotechnology Council has developed ratings for municipalities who fill out a survey with information on their zoning practices and infrastructure capacity. The council's focus with these ratings is to help biotechnology companies find the most favorable destinations in the state. The ratings are bronze, silver, gold and platinum; Tewksbury was awarded gold status. The award means, among other things, that Tewksbury convenes site plan review meetings, bringing together all pertinent departments, to provide an overview of the local approvals process for significant commercial and industrial projects, and has identified sites for biotechnology uses in its municipal plans.
"It means we have a number of things in place to make Tewksbury an ideal place for biotech firms to locate," Sadwick said. "We have several areas in which we accommodate their needs."
On the infrastructure side, the town of Tewksbury recently completed a $100 million sewer construction project.
From tax incentives to biotechnology-ready plans to investments in infrastructure, Tewksbury is investing in business and quality of life for its residents. Michael Hackman, founder and chief executive officer of Hackman Capital Partners, LLC–one of three owners of Riverview Technology Park, 130-acre, multi-tenant industrial park on Woburn Street in Tewksbury–said the town not only has an active local governing body, but also benefits from of a bevy of resources in the surrounding area that are unparallelled, including the Merrimack Valley Chamber of Commerce, the Greater Lowell Chamber of Commerce and the Merrimack Valley Economic Development Council. At the state level, Tewksbury manufacturing companies can take advantage of the Economic Stabilization Trust, which lends working capital, term loans and lines of credit to manufacturing businesses in the state.
Hackman, whose 502,847 square foot industrial space includes 20,000 square feet of state-of-the-art office space for lease and 20 acres of land for development, says Tewksbury is a town on the move.
"The efforts of the Tewksbury EDC are greatly appreciated by business owners and potential tenants in the area," Hackman said. "In just two short years, they have put Tewksbury on the map in a whole new way, making the town a true competitor on the business development front."
About Riverview Technology Park
Situated 30 miles north of Boston in the Riverview Technology Park, a prestigious, 130-acre, multi-tenant industrial center, 495 Woburn Street is ideal for R&D and light assembly and offers 100,000-495,000 SF of totally renovated space for lease. Highlights include heavy power, abundant water, ample loading and parking, nearby commuter rail and more. An additional 20-acre site, also available at the park, offers room for expansion. The park's prime location, at I-495 and Route 3, provides proximity to life-science communities in Boston and Cambridge and access to a highly educated workforce. Visit hackmancapital.com for information.
About Hackman Capital Partners, LLC
Hackman Capital Partners is a private real estate investment firm specializing in the acquisition, management, redevelopment and adaptive reuse of industrial and commercial real estate. Founded in 1987, the company pursues value-added investment opportunities nationwide, and currently owns and manages more than 16 million square feet of real estate across the United States. Hackman Capital Partners is headquartered in Los Angeles, and has regional offices in Chicago and Kalamazoo, Michigan. For more information, visit http://www.hackmancapital.com.
Media Contact:
Eleanor Moriarty
Hackman Capital
310-943-8715
emoriarty(at)hackmancapital(dot)com
###