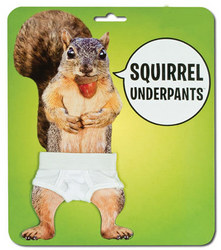 My collection of funny underwear is guaranteed holiday hilarity.
Paterson, NJ (PRWEB) November 18, 2010
For this Christmas BaronBob.com the self proclaimed world's wackiest gift gallery is offering an unusual line of underwear novelties - tighty whiteys. Year after year underwear has been an American staple of holiday gift giving.
"Let me be brief (sorry) but I always dreaded getting underwear as a Christmas gift," says BaronBob.com's President Bob Brooks. He further states, "My collection of funny underwear is guaranteed holiday hilarity!"
Uh Oh... Emergency Underpants
Don't let soiled underpants ruin your day! With these handy Emergency Underpants you'll be prepared for any untimely underpants incidents. Better safe than soggy! Each 3" x 1-1/2" x 3/4" tin contains one pair of disposable unisex underpants. Fits most adults. $4.50
Underpants - Underwear for your head.
Feeling a little chilly under that stocking cap? Tired of scalp irritation from wearing that fedora? You need an Undercap! Each 95% cotton, 5% spandex cap is just like underwear for your head. Wear it underneath your hat for extra warmth and protection! Wear the Undercap Skull Underspants by itself for a wacky new fashion statement! Hundreds of uses! Fits most adult heads. $11.95
Handerpants - Underwear for your hands.
Are you really naked under those gloves? For Pete's sake, put on some Handerpants! These 95% cotton, 5% spandex, fingerless gloves have the look & feel of men's briefs so slip them on underneath your gloves for extra warmth plus excellent protection from chaffing! Wear them on their own as a vaguely inappropriate fashion statement or as the funniest gym lifting gloves ever! Each order of Handerpants includes two gloves & fits most adult hands. $11.95
World's Largest Underwear
These 100% cotton, size 98-100 giant underpants stretch the definition of briefs. Each high-quality undergarment has a convenient double flap in the front and a sturdy elastic band to fit around the waist for maximum comfort. The World's Largest Underpants come in traditional white only and will shrink a bit after washing. $19.95
Squirrel Underpants
Are you sick and tired of squirrels running naked in the trees around your house? Have you had to hide your children's eyes when a tiny furry streaker crosses the sidewalk in front of you? We've got the answer, Squirrel Underpants! Each pair of these tiny briefs has a 3" waist and is made of 100% cotton. Also perfectly suitable for hamsters, frogs and gerbils. One size fits most! Easy to use, no assembly required. $5.95
Squirrel Underpants Dramatic Oil Painting
This brilliant hand-painted oil painting features a pastoral scene of a squirrel wearing underpants. It's not only a fine piece of art, it's an endorsement of squirrel decency! Each work of art is painted on canvas and set in an 11" x 13" gold colored frame. $38.95
Established online in 1998 BaronBob.com is a gift gallery of unique and unusual gift ideas and is led by Bob Brooks a.k.a. Baron Bob Gift Crusader.
# # #