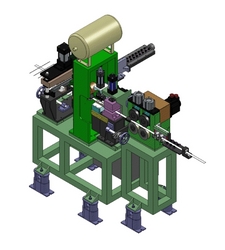 This Bird Spike welding machine allows various thicknesses of base plate and spikes. The stainless steel plate and stainless steel wire can be fed into the welding machine automatically; while feeding, the base plate will be perforated with a punch, which
(PRWEB) November 13, 2010
Golden Spot Industry developed the Stainless Steel Bird Spike Welding Machine, fully automatic and multi-functional. It is new efficient tool and good helper for Bird proofing products manufacturers and distributors.
Bird Spikes are one of the easiest bird proofing products for preventing birds from roosting and nesting. Usually, the Bird spikes are made of steel and mounted into a polycarbonate base, which is cheap but with short life. The base of the spike can be glued, screwed, nailed, or tied down to most surfaces. Bird Spikes come pre-assembled in two-foot sections and may be installed using adhesive or screws. In the whole manufacture progress, you would spend money, time and efforts on designing, purchasing different materials, molding…etc. in order to satisfy the different requirements from customers. But today, Golden Spot gives a great solution for these troubles.
Golden Spot Stainless Steel Bird Spike welding machine is full automatic and with multi-function. This Bird Spike welding machine allows various thicknesses of base plate and spikes. The stainless steel plate and stainless steel wire can be fed into the welding machine automatically; while feeding, the base plate will be perforated with a punch, which is for customer to screw the spike on their walls or windows. Then, the special-design welding head will press the plate and wire together, and start welding. The most worth mentioned is that we can make the machine to shear the length of base plate and the bird spike wire by operating its screen monitor, in order to make the perfect size of the bird spike we want.
With this unique technology, Golden Spot Bird Spike Welding Machine not only helps customers save a lot of expenses on preparing different materials, plastic injection molding and assembly, but also improving the return on investment.
For more information, please visit http://www.goldspot.com.tw.
Contact information:
Company: Golden Spot Industry Inc
Address: No. 6, Alley 25, Lane 25, Kuo Chung 1st. Rd.,
Ta Li City, Taichung Hsien, Taiwan
Tel: 886-4-24065040
Fax: 886-4-24061060
Web site: http://www.goldspot.com.tw
Email: gold(dot)spot(at)msa(dot)hinet(dot)net
###