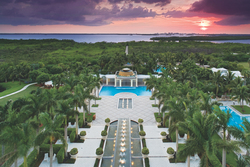 Estero, FL (PRWEB) November 15, 2010
Leading Naples resort Hyatt Regency Coconut Point Resort and Spa has been honored by the Estero Design Review Committee with the prestigious David Graham award. The annual award honors long time Estero resident David Graham and is presented each year to a local community or business.
The Bonita Springs hotel and resort was honored for its eco-friendly design, which has helped make it a leader in "green" hotels. Hyatt Regency Coconut Point Resort and Spa is a "3 Palm certified" green resort by the Florida Department of Environmental Protection. Hyatt Regency Coconut Point Resort and Spa is the first hotel in the state to receive this distinction. The resort was also noted for its involvement in the Estero community from hosting events to providing gifts for various charity functions.
Hyatt Regency Coconut Point Resort & Spa is a four-diamond, 454 room resort. The resort features award-winning Tarpon Bay Restaurant, a championship Raymond Floyd 18-hole golf course, a full service 19,000 square foot spa, three pools, two waterslides, a private island beach, and a host of other amenities. The property opened in 2001 and has been recognized as the only 3 Palm Green Lodging resort in the State of Florida.
For additional information or to make reservations, call 239-444-1234 or visit http://www.coconutpoint.hyatt.com. For media inquiries, contact Joe Thompson at 239-390-4280.
###