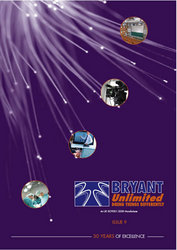 Bryant Unlimited ~ Doing things differently for 30 years!
(PRWEB) November 13, 2010
100 new broadcast and A/V product lines including cables, connectors and interconnects added to Bryant Unlimited's Free catalogue
After 30 years Bryant Broadcast has changed it's name to Bryant Unlimited. This reflects the company's evolution and expansion in cable and connector products for Interconnection, Interfacing and Installation. Bryant Unlimited are taking the lead in supply and repair of fibre optic camera cables for broadcasters, equipment for AV installations and supplies to medical, educational and military markets throughout the world.
As a UK ISO9001 manufacturer with metalwork, mechanical assembly and wiring capabilities Bryant also offer custom interconnect solutions; taking clients ideas and helping them design and produce product they want.
Bryant Unlimited is now a leading manufacturer of optical fibre interconnects for audio and High Definition video broadcast plus Network and high-end Audio/Video interconnects. Bryant Unlimited has invested heavily in the equipment and expertise necessary to assist engineers in using fibre to transport HD, 3Gb/s and Gigabit Ethernet over fibre optic media. With an increasing range of optical cable assemblies, break-out cables, hybrid fibre break-out/patching panels, wall boxes, cable pullers and components, special fibre handling cable reels, etc. Bryant Unlimited aim to provide the complete optical interconnect solution.
The company's latest FREE issue 9 catalogue will be despatched just as soon as it's requested.
Over 100 new broadcast and Audio/Video product lines are showcased in this newly updated catalogue.
8 catalogue sections cover:
Jackfields, Patchbays and termination panels
Audio connectors, cable assemblies and stage boxes
Camera, video and a/v connectors
Cables, wire and cable accessories and cable drums
Power distribution, racks and metalwork
Signal processing, monitoring and test equipment
Data networking products
Audio/Video connectivity products
To request a copy of the printed catalogue click ~ http://www.bryant-unlimited.co.uk/bryant_unlimited_catalogue_request.html
In addition to the printed catalogue, there are further new products online at:
http://www.bryant-unlimited.co.uk
Notes for Editors
Bryant Unlimited are an ISO9001:2008, UK manufacturer of racks, custom metalwork and termination panels, rack power units; fascias, boxes, OB vehicle metalwork; audio/video and Cat 6 network jackfields, pre-wired audio jackfields, copper and fibre cables and associated connectors.
Bryant Unlimited serve a wide customer base in the Broadcast and A/V sectors with clients ranging from the BBC, Arqiva, and Sony through many major systems integrators, to independent wiremen and installers. Flexibility and responsiveness are the major factors that have brought these customers back repeatedly to Bryant over the last 30 years.
Bryant's manufacturing division can handle all facets of sheet metalwork and by virtue of its state of the art auto machining centres offers a second to none bespoke service for custom metalwork.
Bryant can manufacture and repair SMPTE camera cables utilising Lemo, Stratos, Fischer and Neutrik Opticon connectors. Bryant Unlimited are fully approved assemblers for both LEMO and Neutrik optical cables.
Because Digital signals are more resistant to interference than analogue, broadcasters can maximise their bandwidth or satellite capacity through digital compression and multiplexing, so it now makes increasing sense to build future networks with fibre ~ thus enabling the management of an entire broadcasting infrastructure and operation, from content creation to distribution on a single network. New to the Bryant portfolio are optical fibre connectivity and distribution solutions for the professional systems integrator from Broadatacom and optical transceivers from OPVision to help achieve this end.
###