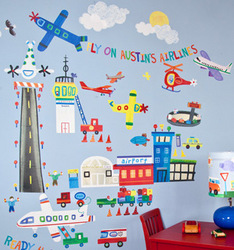 Peel and Place turned our playroom wall into a giant canvas on which our kids could use their imaginations to create new scenes everyday. It has provided hours of fun and looks adorable, too!
Cumming, GA (PRWEB) November 12, 2010
Baby Bear's Den is thrilled to announce the launch a fun and innovative new children's room décor product, Oopsy Daisy Peel and Place removable wall stickers. This product is different from other wall decal products in that it is meant to be an imaginative, on-going creative project for children in addition to being fun and colorful wall décor.
Peel & Place wall stickers are made of canvas in order to capture the same great clarity, depth and color resolution as stretched wall art. The canvas material also ensures that the decals are easy to clean, durable and completely re-positionable. These unique wall decals do not permanently stick to the walls, furniture or to themselves. They will stay put for as long as you want them to and then can easily be removed, repositioned or even transferred to another room without any wall damage.
Due to our own past experience with other so-called "removable" wall stickers, Baby Bear's Den decided to put these new Peel & Place stickers to the test and film it for all of our customers to see. The kids loved it and the results were amazing. You can view our exclusive video at http://www.babybearsden.com/peplwastprde.html.
The Peel & Place product arrives in an adorable signature green Oopsy Daisy gift box. Open the box and let your child's imagination run wild. Children and adults can have fun creating their own colorful scene on a playroom or bedroom wall. The stickers are easy to apply and remove so there is no frustration for the kids or parents in getting it all just right. The best part is that kids can continue to remove and reposition the stickers to create a brand new scene every day if they like.
Oopsy Daisy's Peel & Place wall stickers are available in over 20 themes including dress-up dolls, airport and farm scenes, a mermaid kingdom, special holiday scenes and many more. Plus, all of the themes include a full alphabet and set of numbers so that each scene can be completely personalized.
Peel & Place wall stickers are also a great way to transition a nursery to a big kid's room without repainting the walls or spending a fortune on new wall art. This versatile product can be used in nurseries, children's bedrooms, playrooms, craft rooms, or even classrooms!
This product makes a wonderful birthday present, holiday gift or even a host gift for the family that you may be visiting this holiday season. Children of all ages will love creating their own masterpiece on the walls of their bedroom or playroom.
All Oopsy Daisy Peel & Place Wall Stickers qualify for free shipping so shop now at http://www.BabyBearsDen.com.
###