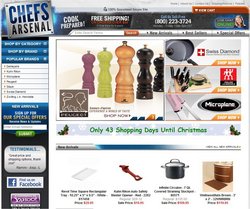 ...when the U.S economy was experiencing a severe economic downturn, Market Warehouse was able to withstand this trend and post significant growth in all major categories.
Plainview, NY (PRWEB) November 11, 2010
Market Warehouse Inc., a leading on-line retailer of computer software, consumer electronics, and gourmet cookware, is pleased to announce the launch of their new gourmet cookware website, ChefsArsenal.com.
Market Warehouse began selling cookware in 2004 and the growth of this division has exceeded all others, prompting the need to create this specialty store. ChefsArsenal.com is poised to quickly become a well-known destination for higher end cookware and cutlery.
Aside from a fresh clean look, ChefsArsenal.com offers many cutting edge features not found on other cookware destinations on the web. The site features a powerful image zoom engine, a robust dynamic filtering system enabling customers to drill down to specific sizes, features, and price; and for items with many colors, such as Staub cocottes, a way to see all color variations on one page.
Industry insiders are noticing the growth of Market Warehouse's cookware division despite the weakened economy, and are very excited at the potential of even more growth through Chef's Arsenal.
"Zwilling J.A. Henckels has had an outstanding partnership with Market Warehouse for over five years. We have witnessed the precipitous growth of this fledgling company since 2004. In 2009 when the U.S economy was experiencing a severe economic downturn, Market Warehouse was able to withstand this trend and post significant growth in all major categories. They achieved this by a combination of a keen eye toward product selection, branding and an outstanding customer service reputation," commented Peter Stern of Zwilling J.A. Henckels. "Now with their new improved website called Chef's Arsenal, they offer better graphics, easier navigation capabilities and new upscale products exclusively dedicated to housewares. Chef's Arsenal will only improve upon what they have offered in the past. We look forward to partnering with them in their new business endeavor and look forward to many years of continued success," continued Stern. In addition to Zwilling J.A. Henckels Twin cutlery, Market Warehouse is a retailer of their two newly acquired lines of gourmet cookware, Staub and Demeyere.
"In this very tough economy when other retailers are scaling back and complaining about sales, Market Warehouse/Chef's Arsenal is embracing new products and concepts. They are experiencing incredible growth while consistently expanding product assortment. The best part is that this is all happening without undermining the MAP retail," said Eric Soss, of manufacturer rep group Gentile-Lichter Associates. GLA represents gourmet brands such as Kuhn Rikon, Microplane, MetroKane and Peugeot.
Allan Wolk, President of Swiss Diamond, recently stated "We have experienced an increase in sales from consumers who identify with Chef's Arsenal new crisp, high value format"
Corresponding with the launch of this new store, Market Warehouse has added new names to their arsenal of gourmet brands, including Revol French porcelain, Berard Olivewood Utensils from France, and WellnessMats, the very popular line of USA made kitchen mats.
"The Market Warehouse has dramatically grown into the Chef's Arsenal. They have become a wonderful source in quality houseware and food preparation products. Besides great products, they offer excellent service and they have knowledgeable sales staff," says long time manufacturer representative David Beer.
"We are very excited to introduce ChefsArsenal.com just in time for the holiday shopping season," said Robert Steiner of Market Warehouse. "The challenge was to create a design that showcased the quality of these high-end brands, while providing the customer with an easy to navigate shopping experience. Our new warehouse in Plainview, New York is fully stocked and we are prepared to fulfill holiday orders right through December 23rd. We look forward to an excellent finish to 2010 and continued growth in 2011," said Steiner.
About Market Warehouse
Established as Software Plus in 1989, and incorporated as Market Warehouse Inc. in 1999, Market Warehouse is one of the top-ranked e-tailers on the Internet today according to all leading comparison shopping sites. The company offers a wide range of products, from computer software, to consumer electronics, to cookware and cutlery. Shipping to over 60 countries, Market Warehouse's clients include all branches of the US Armed Forces, the US Government, NASA, Fortune 100 companies, and hundreds of schools and universities.
In addition to MarketWarehouse.com, Market Warehouse is a merchant on Amazon.com, Buy.com, Sears.com, and operates an eBay store. In 2010, ChefsArsenal.com was launched as a specialty gourmet cookware store. For more information about Market Warehouse, visit http://www.marketwarehouse.com, http://www.chefsarsenal.com or phone 1-800-223-3724.
###