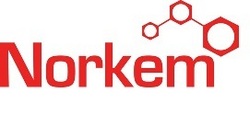 Norkem is proud to be ranked among the world's leading chemical distributors
(PRWEB) November 13, 2010
ICIS Chemical Business has named Norkem, a leading international supplier of animal feed supplements, industrial chemicals and pharmaceutical additives as one of the 2010 Top 100 Chemical Distributors.
The ICIS Top 100 Chemical Distributors is a list of the world's leading chemical companies based on 2009 total sales. It also produces regional lists of leading suppliers in Europe, North America and South America. Norkem was ranked 60 globally and 32 in Europe.
"Norkem is proud to be ranked among the world's leading chemical distributors," said Graham Lewis, Norkem's Managing Director. "We continually strive to be a responsive and forward thinking company and remain focused on providing a first class service along with keen pricing and industry expertise for our suppliers and customers. Norkem's expansion into Australia which follows on from our expansion into China is a recent example of our dedication to expanding our global distribution network."
Norkem
Founded in 1970 with head quarters in Knutsford, Cheshire, Norkem is a multi-million dollar international chemical distribution company who specialise in providing chemicals for the construction industry, animal feed supplements, pharmaceutical additives and food and beverage additives. For more details visit the company's web site at http://www.norkem.com.
+44(0)1565 755550
# # #