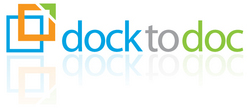 This new technology significantly increases the efficiency of our customers, and the level of service they are able to provide to their customers
(Vocus) November 12, 2010
BlueGrace Logistics, a leading transportation, logistics and technology provider to businesses throughout the United States, announced today their new technology "Dock to Doc". This gives customers direct online access to Proof of Delivery, original Bills of Lading, and Weight and Inspection Certificates in their BlueShip™ (TMS). By integrating their system with carriers that are able to provide shipping documents to BlueShip, BlueGrace customers are now able to download images of these documents as soon as they are scanned into and made available in the system.
"This new technology significantly increases the efficiency of our customers, and the level of service they are able to provide to their customers," said BlueGrace president and CEO Bobby Harris. "The ability to immediately verify when and where a shipment was received, including a copy of the signed documents, eliminates confusion or disputes and also lets our customers submit their invoices faster."
Bufkor, Incorporated, a Clearwater, FL based provider of packaging, displays, bags and promotional products for some of the most prominent retailers in the jewelry industry, is among the earliest BlueGrace customers to utilize this new technology.
"In the past, when our customers needed to know the status of their shipments or requested proof of delivery, it could take me 24 hours or more to provide that," said Frank Cruze, purchasing manager for Bufkor, Incorporated. "Now, with BlueGrace's 'Dock to Doc' technology, I can provide this information for them instantaneously, including a copy of the signed documents. This has saved me a substantial amount of time, while allowing me to significantly improve our own customer service." Cruze said that he found the new system is extremely user friendly, and had experienced no 'glitches' or problems. "Because of BlueGrace's continually improving technology, pricing, and first-rate customer service, we use them for all of our domestic shipments."
Harris said that although "Dock to Doc" has just been introduced, more than 50 customers are already using it. "Our customers are very excited with this new technology," said Harris, "and we expect that most of our 1,500 customers will be utilizing this new tool to simplify their lives and save them valuable time in the near future." He said that 10 of the company's top carriers are already integrated into the system, and that more are expected in the near future.
"Now our customers are able to access all of their shipping documents in one central location," said Harris. He said that especially in today's economy, with many businesses short-staffed and having to do more with less, utilizing technology wherever possible to meet customer needs and help give them a competitive edge is crucial. "We are definitely a technology-driven company," said Harris. "Our focus since day one has been on developing strong carrier relationships and providing superior customer service using innovative technology. This focus is the key to our success."
About BlueGrace Logistics
BlueGrace is a leading transportation, logistics and technology provider serving customers throughout the United States. Founded in 2007, the company has steadily expanded and recently relocated its corporate headquarters to a 12,000-square-foot office building in Riverview, Florida. BlueGrace also has satellite offices in Salt Lake City and Chicago. Quickly emerging as one of the nation's most progressive logistics providers, the company offers best-in-class freight services including:

Less than Truckload
Truckload Services
Air Freight
Ocean Freight
Parcel Shipment
Logistics Management
State of the Art Technology
For more information about BlueGrace and the "Dock to Doc" technology, please visit us at http://www.mybluegrace.com or contact Bobby Harris at (813) 641-0357.
###