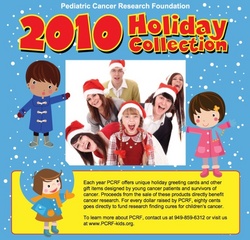 The Holiday Card Program is one of the easiest ways to help fund research that will lead to a cure for children's cancer. Nancy Franks, Executive Director, PCRF
Irvine, CA (PRWEB) November 12, 2010
The Pediatric Cancer Research Foundation (PCRF) announced the launch of its 2010 holiday card program. Each year PCRF offers unique holiday greeting cards and other gift items, such as gift tags, designed by young cancer patients and survivors. The vivid and one-of-a-kind designs are available online and in many major supermarkets in Southern California and Nevada throughout the holiday season. Individuals can also order customized cards with their name or company logo.
New for the 2011 holiday season, PCRF is offering personalized animated cards that feature festive music and clever designs that will surely brighten anyone's day. Each of the six designs can be customized with the sender's name or company logo.
Those who wish to support this program, now in its 23rd year, may purchase directly from the PCRF website (click on "2010 Holiday Cards") or visit select Southern California and Nevada retail locations of Vons, Ralph's, Gelson's, Marbella Farmer's Market, Pacific Ranch, and Promeli's Market. PCRF also accepts telephone orders at (800) 354-7273. PCRF ships worldwide.
"The Holiday Card Program is one of the easiest ways to help fund research that will lead to a cure for children's cancer. The young artists are always excited to participate in a fun and satisfying campaign as a way to express their creativity while also raising money to benefit those affected with pediatric cancer," said Nancy Franks, PCRF Executive Director. "What better way to get in the holiday spirit by supporting such an important, yet underfunded, cause and impacting a child's life?"
Last year, PCRF sold approximately 350,000 cards. The goal for 2010 is 400,000. Roughly eighty percent of every dollar goes directly to research that leads to medically sound treatment protocols for childhood cancers. Since its inception, PCRF has raised over $22 million in funding for research.
To purchase PCRF holiday cards online, visit the PCRF store or call (800) 354-7273.
###