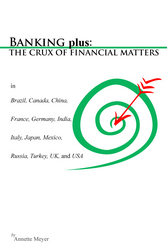 New York, NY (Vocus) November 12, 2010
BANKING plus: THE CRUX OF FINANCIAL MATTERS, a new book by Annette Meyer, has been released by RoseDog Books.
The basic underpinnings of the financial structure of a nation are embedded in its banking system, its stock markets, and its credit institutions. These elements are also closely interconnected to the behavior of consumer, business, government, and foreign trade sectors of national economies.
Banking Plus illustrates the linkages among these components through theory and recent data for thirteen nations. Data, performance of stock markets, monetary authorities, banks, credit markets, and external debt, backed by balance sheets, capital flows, and other structural influences, are explored.
Financial development and productivity growth have displayed a positive relationship, and many advancing nations have been catering to this claim. Gross Domestic Product and Gross National Income per capita in these nations have been rising at a rapid pace as their financial sectors expanded. However, as world nations have learned, the risks of financial instability are high.
From experience as a teacher, researcher, and participant in organizations on global economic concerns, Meyer has been able to combine seemingly disparate elements of financial life into Banking Plus.
This work has been a product of brief meetings with officials at the Finance Ministry of France in Paris and the Office of Management and Budget of U.S.A. in Washington, D.C., along with a teaching and research career at undergraduate and graduate levels at the College of New Jersey and Hunter College of CUNY.
Annette Meyer has written Evolution of United States Budgeting in 1989 and 2002, and her forthcoming titles include: The Subject is Interest Rates, Mini-World of Twenty Nations in Real Time: 1990 to 2007, and The Trouble with Money…
BANKING plus: THE CRUX OF FINANCIAL MATTERS is a 148-page paperback with a retail price of $18.00. The ISBN is 978-1-4349-8223-0. It was published by RoseDog Books of Pittsburgh, Pennsylvania. For more information or to request a review copy, please visit our virtual pressroom at http://www.rosedog.com/pressroom or our online bookstore at http://www.rosedogbookstore.com.
###