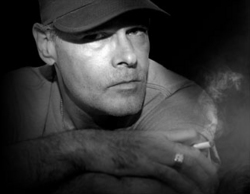 "The idea of taking something that I painted and actually adding depth and movement to it... I find that really appealing."
Plano, TX (PRWEB) November 15, 2010
James O'Barr signed with MotionWorks Entertainment to publish his latest book. It stands to be the first book he has written and created since 2003. Best known for "The Crow", O'Barr is excited to release his newest piece through an emerging medium. The new genre of comics combines sound, motion, and the traditional panel format, to create a unique experience. The book will be available on mobile devices like smart phones, iPhone's, iPad's and iPod's. O'Barr states:
"Everything I do is ink on paper or paint on paper. I don't use Photoshop, I don't use anything. The idea of taking something that I painted and actually adding depth and movement to it, just adds a whole other dimension to it. I find that really appealing."
As for details, O'Barr is being tight lipped, but did let it slip that it would be a gothic western themed saga.
Alexis Alarcon, Vice-President of Business Development for MotionWorks Entertainment, states, "MotionWorks Entertainment is honored to have an artist of James O'Barr's stature join the MWE family. O'Barr's enthusiasm and hard work definitely legitimizes our core beliefs as a company. We are trail-blazing in a medium new to the comic industry that allows us to bring O'Barr's stunning work to not only his fans, but to a whole new global audience."
MotionWorks Entertainment is scheduled to release a movie-like trailer by the end of 2010 and the first book in its entirety in early 2011.
MotionWorks Entertainment is a start-up company out of Dallas, Texas focusing on comics in electronic and printed media. They can be followed on Facebook, Twitter, and Youtube.
###