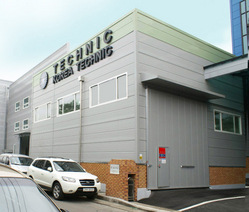 Cranston, RI (PRWEB) November 15, 2010
Technic, Inc., together with its Korean subsidiary, Korea Technic, is pleased to announce the official opening of our new specialty chemical manufacturing facility located in Incheon, Korea.
The new facility features a state of the art manufacturing and laboratory space to provide our Korean customers more efficient, cost effective, and timely delivery of a range of products from our specialty chemical product line. This new facility provides a dramatic increase in manufacturing capacity and allows for future expansion for our imaging product group.
"Korea Technic plans to manufacture most of the key products for the Korean markets in the future based on technology transfer from its US headquarters in Cranston, RI. The key target market areas include high end Flexible PCBs, COF substrates, and semiconductor packaging. By implementing a local manufacturing facility and customer service laboratory, our Korea Technic facility will be able to offer expedited technical service and delivery to our Korean customers." -- Sy Chung, Managing Director, Korea Technic
For further information, please contact
Korea Technic Co. Ltd.
4th Floor, Seo-Hung Bld #1163-5
Gaepo Dong, Kangnam-Ku,
Seoul, 135-240 Korea
Tel: 82 2 576 3830
Fax: 82 2 578 0602
http://www.technic-kr.com
http://www.technic.com
# # #