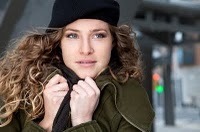 You have to have tricks up your sleeve to deal with these types of situations. Rain can cause a big frizzy mess if you don't know how to control it.
Beverly Hills, CA (PRWEB) November 17, 2010
Hairstyle specialists Batia and Aleeza reveal the top hairstyles at their salon this fall and offer great tips maintaining a hairstyle no matter what the weather.
The latest hair trends from Beverly Hills are revealed, courtesy the professionals at Batia & Aleeza Hair Salon.
1. Highlights for the fall
"The biggest trend for fall and/ winter is highlights," says Batia. "People tend to associate highlights with summer time, but I frequently advise clients with dark hair to get some highlights for winter." During cold weather, there is a tendency to dress dramatic -- dark, heavy coats and deeper colors dominate. "If your hair is dark, it can get lost. You should always contrast what you wear and make your hair stand out!" says Batia. "So many clients either get highlights, or simply get a rich interesting color that stands out and really catches the eye."
2. Both long and short cuts are in
"The requests vary. Some people get excited about growing their hair long, because it's not hot anymore and they don't have to worry about sweating so much," says Batia. "Then again some people absolutely insist on getting a shorter cut, because they love the way it falls on a turtleneck sweater. I personally think both are equally beautiful, it's how you carry yourself that makes the impact."
3. Hairstyle control for curly hair
For people with wavy or curly hair who get caught out in the rain, Aleeza offers some great hairdo saving tips. "You have to have tricks up your sleeve to deal with these types of situations. Rain can cause a big frizzy mess if you don't know how to control it. Batia & Aleeza Complete Hair Care Solution gets everything back under control. If you've tried our line before, you will know that our Bio Mineral Sculpting Gel works best on wet hair. It is only natural that when your hair gets wet, it will simply get more shine. All you need to do to get it back under control and frizz free is grab a towel or even a paper towel at a near-by restrooms, crunch your curls/waves up (from the bottom up, towards the root) with the towel to soak and dry it all together. This way it doesn't puff up and go wild on you. Trust me, if you use our Bio-Natural Shampoo, Bio-Protein Conditioner & Bio-Herbal Mineral Sculpting Gel, there is nothing your hair can't handle. We guarantee it!"
About Batia & Aleeza Hair Salon
Batia and Aleeza make use of years of experience and superior hair styling techniques to bring clients the perfect frizz-free curls. Batia and Aleeza's hair-care range and curly hair products have transformed the way women with curly hair feel about their hair.
Batia & Aleeza Hair Salon is located in the heart of Beverly Hills at 415 North Camden Drive. To book an appointment at the salon, please call (310) 657-4512, or to order hair care products, call (310) 559-5807, or visit http://batiaandaleeza.com/.
###