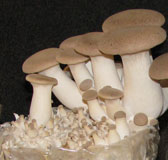 … may look like a salad on the plate, but…. it eats like a steak.
(PRWEB) November 15, 2010
Sebastopol, CA Gourmet Mushroom Products (GMHP) introduces the Trumpet Royale ™ Mushroom Kit for the Holidays. A perfect gift, GMHP's kits allow you to grow fresh Trumpet Royale ™ mushrooms almost anywhere in your own home. Just open the all-inclusive kit, add water and watch the mushrooms grow over a period of 9-14 days. GMHP's mushrooms logs are Certified Organic, easy to use and guaranteed to produce. GMHP's mushroom logs are specifically designed for in-home use, but produce the same top-quality fresh gourmet mushrooms used at many of the country's finest restaurants.
Unless you are a foodie on the cutting edge of Italian cuisine, the Trumpet Royale ™ Mushroom, Pleurotus eryngii, also called the king trumpet, French horn or king oyster mushroom, may have escaped your attention. Until recently, lovers of this firm, aromatic mushroom could only find fresh, wild specimen in Italy and parts of Asia. But once the Trumpet Royal was tamed for indoor cultivation, fine restaurants jumped at the chance to experiment with this meaty, smooth and complex ingredient. It has also recently become known that this variety, just like the shiitake, can lower cholesterol levels.
Inspiration: The home chef always looks to culinary trends to inspire new creations. Exotic mushrooms were rated a "hot" ingredient by 65% of chefs in a 2006 National Restaurant Association survey. Each kit from GMHP will produce the same mushrooms used by gourmet eateries like Millennium in San Francisco and the James Beard Foundation in New York. Chef Missy Robbins of A Voce in New York featured Trumpet Royal when cooking for The Today Show. Her roasted Trumpet Royal "… may look like a salad on the plate, but…. it eats like a steak."
Preparation: Chefs love working with the Trumpet Royale ™ because of its wonderful nutty flavor and a resilient firm texture. Unlike many mushrooms, the stem has the same superb flavor and porcini-like texture as the cap - nothing is wasted. Different aspects of its subtle, aromatic flavor will emerge depending on the style of preparation. Chef Bob Engel enthuses "Royale™ are great on the grill. They have a firm, meaty texture and a natural affinity for sweet and hot spices." Trumpet Royale ™ can be sautéed, grilled, braised, stewed or broiled, and although its savory richness is emphasized by high-heat cooking it's often shaved and served raw.
Home Cultivation: For over 21 years GMHP has been bringing fresh gourmet mushrooms kits to into homes across the country. Rated "Best Flavor, Best Overall Value, too" by the Wall Street journal, GMHP's mushrooms logs are Certified Organic by Quality Assurance International, easy to use and guaranteed to produce. Mushroom Kits are the perfect gift for mushroom lovers of all ages. The GMHP web site offers three ways of growing delicious, healthy, organic, gourmet mushrooms at home:
1. Indoor Mushroom Log Kits for quick, delicious results.
2. Outdoor Plug Spawn for long term production.
3. Outdoor Morel Habitat Kits which produce morels for years.
GMHP, PO Box 515, Graton, CA 95444
24 hour order line: (800) 789-9121
# # #