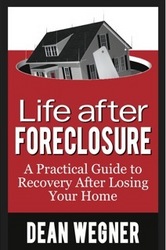 "The housing market in this country has millions of people feeling lost and overwhelmed, and I want them to know there is hope. This book contains many of the answers they are searching for."
Scottsdale, AZ (PRWEB) November 12, 2010
Scottsdale Book Publishing today announced the release of "Life After Forclosure" by Dean Wegner, a 16-year veteran in the mortgage and finance industry. The book details the process for navigating a short sale, foreclosure or strategic default and for recovering both financially and emotionally.
"After helping thousands of people navigate the muddy waters of their foreclosures, I knew I had to write this book," said Wegner. "The housing market in this country has millions of people feeling lost and overwhelmed, and I want them to know there is hope. This book contains many of the answers they are searching for."
View informational video and ordering information here: http://www.lifeafterforeclosurethebook.com
Through "Life After Foreclosure" readers will learn:
What to expect during the foreclosure, short sale or strategic default process
How to talk to family and friends
How to quickly repair credit after a foreclosure or short sale
Tips for recovering financially, physically and emotionally
Dean Wegner is available for comment.
Print Version ISBN: 978-0-9831268-0-5
Electronic Version ISBN: 978-0-9831268-1-2
Connect online: Twitter: http://twitter.com/LifeForeclosure
Facebook: http://www.facebook.com/lifeafterforeclosure
You Tube: http://www.youtube.com/lifeafterforeclosure
About Dean Wegner:
Dean Wegner is a leading expert in housing with over 16 years of experience, and has developed the reputation of someone who knows the answers to tough questions. Dean is a member of over 25 real estate organizations and a Certified Consumer Credit Counselor. He has spoken to over 3000 people facing foreclosure and addressed the media on this topic over 500 times, including cover stories in USA Today and CNBC. He is currently a guest star on the new WE TV hit series 'Downsized.' Dean lives in Arizona and enjoys spending time with his three wonderful daughters.
Media Contact:
Name: Jeremy Lovett
Title: Tri-Star Media Relations LLC
Phone: 602-432-6388
Email: Jeremy(at)Tri-StarMediaRelations(dot)com
# # #