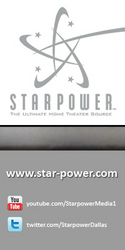 We are excited to hold the Expo in Scottsdale for the first time ever, this will allow event goers to see the newest technology in Audio/Video Entertainment and have a great hands on experience
Phoenix, AZ (PRWEB) November 12, 2010
Audio/video technology enthusiasts look to the winter months for the latest and greatest items to be released. Starpower, a national leader in custom home automation, will be showcasing the latest in breakthrough technology at the first annual Tech Expo on Friday, November 12 and Saturday, November 13.
Visitors of the Starpower Expo should expect a variety of products from JVC, Samsung, LG, Pioneer, Sony, and other manufacturers. The displays of each manufacturer will allow the visitor to gain hands on experience with the products.
"We are excited to hold the Expo in Scottsdale for the first time ever, this will allow event goers to see the newest technology in Audio/Video Entertainment and have a great hands on experience," said Starpower CEO David Pidgeon.
The Starpower Expo will be held at the Scottsdale, AZ store on November 12-13. All the manufacturers will be in Scottsdale to demonstrate the latest technology.
About Starpower
Founded in Dallas in 1995, Starpower was created to provide clients with the finedst experience in high end, custom installations of audio, video, security, and electronic automation. Starpower has been named "Best Audio/Video Retailer in America" by Twice magazine, and has taken home multiple awards for service, installation and design. For the latest in custom home theater design, home automation and security and to experience the Star Treatment, stop by the Tech Expo or visit our website at http://www.star-power.com.
###