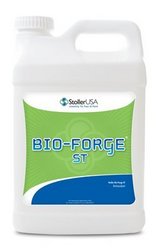 Houston, TX (PRWEB) November 15, 2010
Bio-Forge is a proven plant performance technology that delivers yield-enhancing results on corn, soybeans, wheat, cotton and most crops. In 2010 a growing number of farmers chose to use Bio-Forge as a seed treatment because it's effective, affordable and delivers an increased return on investment.
To meet the increasing demand, StollerUSA is introducing BIO-FORGE ST. BIO-FORGE ST is specially formulated to be used only as a seed treatment. This new concentrated formulation reduces the application rate by half to only 2 oz/cwt of seed. It is designed to ensure ample and even seed coverage, ease of application through the seed treater and enhanced compatibility with other standard seed treatment chemicals.
BIO-FORGE ST provides growers an affordable, cost-effective, university-tested, treatment that will enhance seed germination, ensure strong early root growth and offset the effects of stress and increase yields.
BIO-FORGE ST costs pennies per acre depending on the plant population and seed size. Seed treaters and farmers no longer have to worry about whether enough Bio-Forge is on the seed or whether the treatment will be too wet for their application equipment.
StollerUSA is dedicated to helping producers enhance yields by maximizing genetic expression. The result is enhanced marketable yield, improved return on investment and improved tolerance to disease and other stress. Only Stoller products contain Stoller's proprietary technology that is proven to ensure optimum plant growth by maintaining appropriate hormone balance in combination with supporting nutrients. Tested by universities nationwide, Stoller's unique formulations result in healthier, more productive crops that are better able to withstand stress and achieve their full genetic potential.
About StollerUSA:
Celebrating 40 years in agribusiness this year, StollerUSA markets a full line of products to help farmers increase crop yield and quality. StollerUSA, headquartered in Houston, is actively engaged in basic and practical research to enhance crop productivity in more than 50 countries.
###