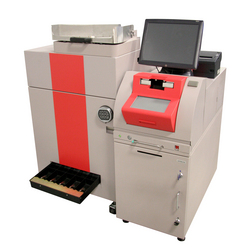 "It is very exciting to see how this one product can improve an operation. It is like going from a horse drawn carriage cash room to a race car cash room, overnight!"
Montebello, CA (PRWEB) November 15, 2010
Socal Safe Company, an industry leader of safe and cash management systems since 1915, introduces their new MIMO Cash and Coin Recycler. The MIMO was engineered to drastically improve back office cash room operations by automating most of the cash counting processes currently in use by most retailers. This cash management system is designed with the retailer in mind, and typically shows an ROI in 12-18 months (or less).
"Our new MIMO Cash and Coin Recycler is going to change the way retailers think about their cash operations. The MIMO allows cashiers to obtain their own cash and coin tills, make periodic cash drops and deposit their end of day tills. Companies can now eliminate that back office vault clerk and move them out on the floor to interact with customers, or take those labor savings and redirect them to marketing. The MIMO can potentially save a company millions of dollars each year with the reduction of currently needed cash room staff," said Greg Pilon, Business Development Manager with Socal Safe Company. "It is very exciting to see how this one product can improve an operation. It is like going from a horse drawn carriage cash room to a race car cash room, overnight!"
The MIMO Cash and Coin Recycler counts and sorts high volumes of cash and coin. Coins are dispensed right into a till tray, so there is no need to sort coin or count coin. A cashier can now start and end their shift in less than 2 minutes, with no need for managers to verify their funds. MIMO takes care of it all. The MIMO's innovative software integrates all cash handling functions and provides many different reporting functions to meet the needs of any business. MIMO's software is network ready which makes is easy to integrate into existing applications.
"The typical Return-On-Investment for a MIMO Cash and Coin Recycler is under 18 months," said Pat Johnson, Vice President of Socal Safe Company. "Once the safe has paid for itself, it is almost like it is making you money. We have developed a state of the art program to work with our customers to fully analyze their potential ROI using MIMO and also developing new procedures to maximize its effectiveness."
The addition of the MIMO Cash and Coin Recycler complements SoCal Safe's already industry leading line of high security safes, jewelry safes, residential safes, and business safes. The MIMO product brings the next generation of safes to the SoCal Safe family. Socal Safe Company is proud to present MIMO at the G2E conference in Las Vegas on November 16, 2010. To learn more about MIMO and how it can save your company money, we invite you to contact Socal Safe Company for a free detailed ROI analysis.
About Socal Safe Company
Socal Safe Company has been providing the nation with the highest quality safes and security equipment since it opened in 1915. Our company has continuously met its goal of delivering premium customer service with 100% customer satisfaction. Socal Safe has been designing and manufacturing products for cash and property security and robbery prevention, as well as products for the banking, jewelry, restaurant, and retail industry for almost 100 years. Socal Safe provides 24-hour, seven-day customer service and support. Information about the company and its products may be found on the company's website at http://www.socalsafe.com or email sales(at)socalsafe(dot)com or by calling (800) 334-6060.
# # #