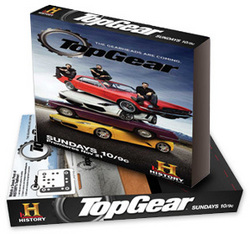 Greenwich, CT (PRWEB) November 13, 2010
One of the UK's most popular TV series since 1977, "Top Gear", is coming to the History channel. In advance of the Sunday, November 21 premier, History will be sponsoring NASCAR with BRANDedTRAY's sponsored, in-venue concession trays. The full-color trays will feature JAGTAG's ultra-versatile 2D barcode system to deliver a multimedia sneak peek at the new series to race fans.
The move further enforces the changing rules of sports sponsorship. Traditional sponsorship opportunities are now being supported by pioneering opportunities that deliver tangible, trackable results to advertisers while positively impacting fan experience.
According to a sports marketing research study published last month by Sponsorship Research International (SRi), BRANDedTRAY demonstrated a more than 15% greater net awareness than signage and almost 40% greater awareness than in-venue promotions. Additionally, 46% of attendees correctly linked the tray sponsor to the BRANDedTRAYs (unaided) and 60% of fans agreed the trays added real value to their experience.
"We're always thinking about how to offer fans a brand experience and sponsors audience activation," explains BRANDedTRAY Senior Vice President, Tom Flynn. "More than 80% of fans recall our trays and the messages on them. You can't say that about any other in-venue media on the market today."
The BRANDedTRAYs will be featured the weekend of November 14 at the Kobalt Tools 500, Phoenix International Raceway and November 21 at the Ford 400, Homestead-Miami Speedway races. "Top Gear" will be premiering the same November 21 weekend on History at 10/9c.
About BRANDedTRAY
BRANDedTRAY produces high-quality sponsored food and beverage trays provided free during concession stand purchases at sports and entertainment events in participating stadia, arenas and race tracks. BRANDedTRAY is the approved serving tray of MLB, NFL, NBA, NHL, MLS, NCAA and NASCAR.
Get more information about BRANDedTRAY and their pioneering text-to-win contest, sweepstakes, couponing and 2D barcode promotions by downloading BRANDedTRAY's media kit at: http://www.brandedtray.com/media and fan BRANDed on Facebook.
About JAGTAG
Unlike other 2D barcode systems, JAGTAG delivers multimedia to both smart phones and standard phones, without requiring the consumer to download an application prior to use. As a result, JAGTAG can share video, images, music and text with three times more mobile consumers than mobile web dependent media. Anywhere a mobile consumer encounters a JAGTAG, they can use their phone to request and immediately receive multimedia content video, audio, pictures, coupons and text sent to their phone. To learn more, visit http://www.jagtag.com.
About History's "Top Gear"
"Top Gear" is bringing its high-adrenaline action entertainment to America. The series tracks the colorful history of the automobile and showcases an offbeat celebration of the art of driving, featuring super-cars, extreme stunts and challenges, car reviews and celebrity interviews, as well as the eccentric adventures of its hosts with Top Gear's customary wit and humor. Hosted by comedian and car buff Adam Ferrara, champion rally and drift racer Tanner Foust and racing analyst Rutledge Wood, "Top Gear" will explore the history of America—one lap at a time. To learn more, visit http://www.history.com/shows/top-gear.
Media Contact:
Thomas Anthony Piccolo
VP, Public Relations
BRANDedTRAY, LLC
Phone: 214-550-3388
Email: thomasapiccolo(at)BRANDedTRAY(dot)com
Online: http://www.brandedtray.com/media/
###