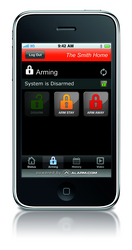 Vienna, VA (PRWEB) November 15, 2010
Knock, knock. Do you know who's really there? With a home security system that provides remote awareness, convenience and control, you'll know who's at your door when you're there and when you're not. Just as holiday dinners require preparation, it's also crucial to prepare your home to keep all family members safe.
Choose a wireless home monitoring system that can be armed or disarmed remotely from any web-enabled computer or smartphone. Integrate video services to be able to view live video of what's going on at home while you're on-the-go, and download security mobile applications for insight into activity that's happening in your home. Here are more tips for preparing your home for guests - both invited and uninvited:
1. Keep an eye on everything.
You've planned everything down to the napkin rings. But have you made sure the security system lets you monitor everything happening in your home? Not all home events are emergencies requiring police response; in fact, most probably aren't. Choose a security system with the ability to keep track of any activity at entry doors, windows, sensitive cabinets, drawers, safes and more for peace of mind when you can't be there. Use video monitoring technology inside to ensure all is well with family and visitors, and outside to see unexpected or suspicious activity on your property.
2. Connect with your family.
Sure, you can schmooze around the dinner table, but there are also simple ways to connect with your family and home while you're away. With free home security mobile apps for your Blackberry, iPhone, Android or other mobile devices, view a history of past security events, check the current status of your system and send commands to arm or disarm your security system from afar. You can also set up real-time email and text message notifications about events that matter most to you, to stay connected no matter where you are.
3. Stay in control.
An interactive home security system makes it easier than ever to manage your home and keep your family safe. But how do you plan for visitors that aren't family? It's not just the head of the household who's arming and disarming your home security system. What about the contractor, the babysitter, or neighbor who takes care of your plants or a dog walker? Pick a security system that lets you set customized entry codes and give permissions to multiple users.
4. Set up schedules that fit your unique lifestyle.
Remember that time you were so busy you forgot to buy a turkey for the big feast? Well, home security systems today can actually fit into your hectic day-to-day schedule. You can set up "no-show" alerts to be informed when your kids didn't come home from school on time. For even more convenience, use strategically placed sensors in your home and set up automatic reminders to find out when guests arrive, if a door or window is left open, or if the liquor or medicine cabinet is accessed. The more you know, the less you'll have to worry about spur-of-the-moment disturbing events.
5. Keep it cozy.
With a security system that protects you from dangerous intruders, you can focus attention on keeping scheduled company comfortable. Utilizing a home automation and energy management system, you can set the thermostat to make your home be warmer or cooler, even when you're not actually there. From your computer or cell phone, create custom thermostat schedules and event-triggered, automatic rules to fit any daily routine, even after daylight savings time. Plus, with an energy management system integrated with your security system, help save energy and run your property more efficiently.
Thanksgiving should be a time of simple pleasures, laughter and a generous helping of warm memories. Follow the tips above to keep your family and guests protected from spur-of-the-moment intruders and have a happy and healthy Thanksgiving.
About Alarm.com
Alarm.com Incorporated provides wireless and web-enabled security and activity monitoring technology to hundreds of thousands of residential and commercial customers throughout the United States and Canada. Alarm.com products and services are offered exclusively through a network of over 1,400 licensed and authorized Security Dealers. The company is headquartered in Tysons Corner, VA, just outside of Washington, DC. For more information, visit http://www.alarm.com.
###