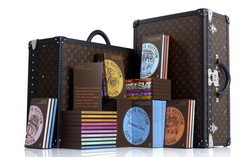 This special edition of postcards is a treasure box of memories.
New York, NY (PRWEB) November 17, 2010
Louis Vuitton is honouring artist Ruben Toledo's work with the release of a collector's set of 100 postcards in fluorescent colours, a real retrospective of the illustrations created for the Louis Vuitton City Guides since 1998. The Postcard Box celebrates the 100 illustrations Toledo has created for the Louis Vuitton City Guides, images that capture in paint the guides' distinct vision of travel and passion for detail." My aim is to paint a portrait of a city and to draw out its special and eternal essence; to capture the unique tempo and character of each."
The Louis Vuitton City Guides collection has already passed through nearly 100 cities across the world and calls on the talents of more than one hundred independent journalists and writers, who provide an attentive, informed commentary on the changes shaking the heart of cities, offering objective views on fashion, design, the arts and gastronomy.
These brand new City Guides, released on October 15th, touch down in totally unprecedented cities. Berlin, Kyoto and Nara are also being offered for the first time in an individual volume alongside London, Los Angeles, Paris, Rome, New York and Tokyo. Meanwhile, the indispensable European City box set is adding seven new destinations to its map: Beirut, Courchevel, Gstaad, Oxford, Palma, Poto Cervo and Thessaloniki. Equipped with easy-to-use maps, the guide unlocks each city's best treasures for both seasoned travelers and curious insiders.
The Louis Vuitton City Guide Berlin is available in French, English, and German, and explores this multifaceted German capital through more than 500 discerning addresses. Guesthouses steeped in nostalgia, little-known vegetarian restaurants, restored brasseries, quirky designers, cutting-edge fashion, hip night spots, revamped museums, and art galleries in constant flux paint the portrait of a fascinating city.
The entirely updated Louis Vuitton City Guide Paris reveals the French capital down to the finest detail. 600 address, each one selected with a fresh and discerning eye, impart restaurants with virtuoso young chefs alongside neighborhood cafes; luxury hotels and charming guesthouses; fashion maestros and design trailblazers; distinguished galleries and secret museums.
The sixth edition of the Louis Vuitton City Guide New York explores every facet of this effervescent metropolis. The selection of some 600 addresses has been thoroughly updated to include grand hotels, stylish bars, world-class restaurants, glamourous nightclubs, fashion and design stores, innovative art galleries and more. In other words, it's a new edition that dives straight into New York's vibrantly beating heart, highlighting the city's extraordinary vitality.
About Louis Vuitton
Since 1854, Louis Vuitton has been accompanying travellers, whether they have a thirst for adventure or are devoted to a certain lifestyle. Its history bears witness to its connection to travel, beginning with the creation of the first modern trunk perfectly tailored to new modes of transport. Since 1987, it has been part of LVMH/Moet Hennessy. Louis Vuitton, the world's largest and most luxury goods group direct by Bernard Arnault. Today, Louis Vuitton has an exclusive network of stores worldwide.
###