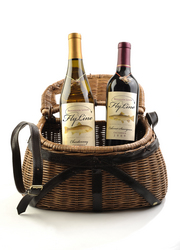 "Entertaining is what we do at the Lodge, and great wine with dinner is the perfect finish to a perfect day of fishing. Why not create our own wine, one that captures the spirit and joy that is Brigadoon?" -Rebekah Stewart
Atlanta (PRWEB) November 15, 2010
Rebekah Stewart, owner of the legendary Brigadoon Lodge on the Soque River, long considered a magical destination by anglers from around the world, is introducing two outstanding wines. FlyLine Chardonnay is sourced from cool climate California vineyards and is a luscious blend of green apple and lemon aromas. FlyLine Cabernet Sauvignon, aged for six months in French oak barrels, has aromas of black cherry and cedar and a long, smooth finish. http://www.flylinewines.com Both wines will retail for $14.99 a bottle, making the wine as good a catch as the monster trout fly fishermen routinely land at Stewart's Brigadoon Lodge.
Rebekah Stewart's story is as magical as the Brigadoon legend. Born in Atlanta, Stewart moved to New York at 23 and enjoyed success as an institutional investment consultant with Smith Barney. In 1989, driving through the Blue Ridge Mountains of north Georgia, she was caught in the undertow of a for-sale sign on an intriguing piece of property. After struggling through brush and climbing down a tangled bank to the river she promptly concluded that it was the most beautiful land and river she had ever seen. She purchased the property the next day and lived there in a tent initially, commuting back and forth to New York each week.
After a decade on Wall Street and a travel schedule that kept her on the road over 300 days a year, exhausted, she decided to retire to her now completed Blue Ridge Mountain paradise, Brigadoon Lodge full time in 1992. Rebekah opened the lodge for limited guests in 1995. Word quickly spread about this beautiful hideaway and its world-class fishing, and fly fisherman the world over flocked to Stewart's lodge. Brigadoon features deep runs and fast moving waters and has the second highest population of trout in the United States with an average size of 22 inches and 8.5 pounds. Stewart's Brigadoon is strictly a catch-and-release fly fishing operation, with barbless hooks and no landing nets.
Although Stewart doesn't fish (and doesn't plan to), she has created a luxurious fishing paradise. Chad Foster, host of ESPN's Fly Fishing America calls Brigadoon Lodge "the Augusta National of fly fishing," and "America's number one fly fishing destination." Ted Turner pronounced Brigadoon "the best private trout water and habitat in North America."
The idea for FlyLine Wine came to Stewart quite naturally. "Entertaining is what we do at the Lodge, and great wine with dinner is the perfect finish to a perfect day of fishing. Why not create our own wine, one that captures the spirit and joy that is Brigadoon? My timing was right and I was able to bottle extraordinary wines that far exceeded my expectations."
Stewart designed the FlyLine labels which feature a rainbow trout on the Chardonnay and a brown trout on the Cabernet Sauvignon. On a lark, she then hand-tied a couple of flies with fluorescent green and orange fly line and draped them on the necks of the bottles. The package is stunning. She even designed a wicker creel twin-pack with a fish handle. "I know I'm a novice in the wine world," admits Stewart, "but I didn't know anything about fishing when I started Brigadoon Lodge, either."
Recently President and Mrs. Carter were hosting guests at Brigadoon for the annual Carter Center Auction Weekend. The President caught three rainbows on his "FlyLine Wine" fly, and he loved the wine. Recent informal tastings have produced delight with FlyLine Wine, best summed up by President Carter's response to his first sip, "This is delicious."
http://www.youtube.com/watch?v=3U82HTyQZZI
Brigadoon Lodge's FlyLine wines will be released November 11 just in time for the holiday season, at the customer friendly price of $14.99. The wines are the perfect gift for any of the 25 million fly fishermen in the United States as well as the 60 million American wine drinkers. And as Rebekah Stewart will tell you, "You don't have to fish to love this wine." Visit http://www.flylinewines.com to order wine or for information. For more information about Brigadoon Lodge check http://brigadoonlodge.com or e mail rebekah(at)brigadoonlodge(dot)com or phone 843-722-5612.
# # #