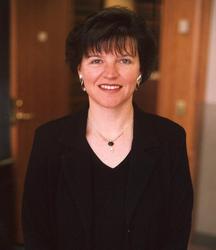 Portland, ME (Vocus) November 14, 2010
Today Preti Flaherty announced that attorney Ann R. Robinson, a Partner in the firm's Augusta office, has been selected to be a co-chair of Governor-elect Paul LePage's Transition Team, with specific responsibility for policy and regulatory review. In this position Ann will work with the Governor-elect and her fellow co-chairs, Tarren Bragdon and John Butera, to identify and vet candidates for high-level positions within the LePage Administration and begin the task of confronting Maine's public policy challenges.
Ann serves as Chair of Preti Flaherty's Legislative and Government Relations practice, one of the largest in northern New England. She has extensive experience in health, environmental, insurance and professional regulation issues. She was appointed by the Bush administration to serve as a Director of the Home Loan Bank of Boston and is a former member of the Maine Human Rights Commission, a gubernatorial appointment. She also served as Chair of the 2010 and 2008 Maine Republican Conventions.
The transition effort will involve the appointment of dozens of senior officials, a sweeping review of existing policies and regulations, and the creation of the LePage Administration's first budget. Similarly to previous transitions, LePage's team will reach out to various individuals and interest groups across the state to solicit opinions as they prepare the agenda and select their nominees.
Ann is a graduate of the University of Maine School of Law (1988) and Brown University (1983). She is a native of Lewiston, ME and resides in Portland, ME.
About Preti Flaherty
Preti Flaherty has offices in Portland and Augusta, Maine, Concord, N.H., Boston, Mass, Bedminster, N.J., and Washington, D.C. With more than 90 attorneys, the firm counsels clients in the areas of business law, climate strategy, energy, environmental, estate planning, health care, intellectual property, labor and employment, legislative and regulatory, litigation, technology and telecommunications. More information about the firm is available at http://www.preti.com.
###