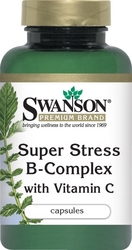 Fargo, ND (Vocus) November 14, 2010
In on-going quality assurance efforts, Swanson Health Products voluntarily submits their products to the third-party testing provider ConsumerLab.com. Recently, ConsumerLab.com conducted a test on B vitamin supplements (B complexes, energy shots, thiamin, niacin, B-6, biotin, folic acid and B-12) focused on the claims made about the amounts of the eight B vitamins contained in each supplement. Swanson Health Products' Swanson Super Stress B-Complex with Vitamin C received an Approved status as a result of the product review.
The vitamin B complex is eight water-soluble vitamins (excess is excreted rather than stored) that act together to metabolize carbohydrates, fats and proteins essential for growth. They assist in hair, skin, nerve, blood cell, immune system, digestive system and hormone-producing gland health. The vitamin B complex includes:

Vitamin B1 (thiamin): involved in energy production and carbohydrate and fatty acid metabolism, necessary for the metabolism of alcohol
Vitamin B2 (riboflavin): assists in processing amino acids and fats, activates vitamin B6 and folic acid, helps convert carbohydrates into the fuel Adenosine Triphosphate (ATP)
Vitamin B3 (niacin): essential for manufacturing enzymes that provide cells with energy through tissue respiration as well as protein, carbohydrate and fat metabolism
Vitamin B5 (pantothenic acid): influences normal growth and development
Vitamin B6 (pyridoxine): assists in breaking down protein and helps maintain red blood cell health as well as the health of the nervous system and parts of the immune system
Vitamin B7 (biotin): helps break down protein and carbohydrates, helps the body make hormones
Vitamin B9 (folic acid): essential for the synthesis of DNA and RNA, important in the production of red blood cells
Vitamin B12 (cobalamin): essential for the metabolism of fats and carbohydrates and the synthesis of proteins, plays a role in how the body uses folic acid
Swanson Super Stress B-Complex with Vitamin C is a unique complex that is specially formulated to help replenish nutrients that are most in demand during high-stress times or times when large amounts of energy are exerted. While the supplements do not produce energy, they are essential in converting fuel into energy. Each Super Stress B-Complex capsule combines a generous supply of B-complex vitamins with the powerful antioxidant protection of high-potency vitamin C.
Swanson Health Products is an industry leader in bringing vitamins direct to consumers at the lowest prices possible. Swanson Health Products, headquartered in Fargo, ND, offers the highest quality vitamins, supplements and natural health care products and is Good Manufacturing Practices certified. Swanson Health Products goes a step beyond its competitors by offering powerful guarantees. All products are backed by a 100% Satisfaction, Money-Back Guarantee and Double the Difference Lowest Price Guarantee. For more information, please visit swansonvitamins.com.
###