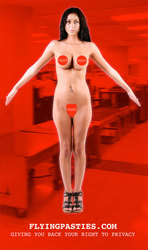 "Isn't it funny that the people who would 'apparently' be best served by the airport scanners are the most vocal in their opposition"
Las Vegas, NV (PRWEB) November 15, 2010
Flying Pasties™ has a solution to the recent rebellions from pilot unions across the nation: our second-generation Flying Pasties™ — the original reusable airport scanner protectors sold at flyingpasties.com.
"Soon to be introduced online, the second-generation Flying Pasties™ still manage to keep one's dignity but now have triple protection against radiation in our nation's airports. They are reusable and should be a staple in everyone's carry-on bags — especially for our nation's pilots," says Mike Francis, official spokesperson for Flying Pasties™.
"I'm amazed that airline pilots have to undergo the same vigorous, humiliating and degrading process that normal coach passengers have to go through at our airports, but at least now their unions could offer them a solution."
Flying Pasties™ operates out of Las Vegas. Our tagline that's mentioned frequently online is "Giving you back your right to privacy." We operate under the mantra that keeping one's dignity is the most important of all. However, after officially opening up our online website on July 4, we found that not only were people concerned about keeping their dignity, but they were also protecting themselves from harmful radiation in our nation's backscatter devices."
We knew they had to meet this concern head on. And they did in grand fashion!
"Like a supersonic jet, and due to the quick nature in which backscatter devices were introduced in our airports, we completely revamped our product in only two short months! After our highly successful initial launch on July 4th, we took a step back and created our second-generation designs." "The shapes are essentially still the same (one large oval/pear shape male insert, one small oval/pear female bottom and two circle tops), however, we switched to a higher-yield manufacturer, and the pasties now have five components instead of one. In our Maximum Flying Pasties™, three of these components will block or deflect harmful radiation from the body," says Francis.
(The second-generation Flying Pasties™ with the most reflective effectiveness will be labeled 'Maximum'. Followed by 'Double' protection and so forth.)
When Flying Pasties™ was conceived more than two years ago, the owners had no idea how quickly 300 invasive airport scanners would be installed in 60 airports across the U.S.
"We're not only surprised at how quickly they've been installed at airports but at how airline pilots have taken the reigns and vocalized our concerns word for word," adds Mike. "Isn't it funny that the people who would 'apparently' be best served by the airport scanners are the most vocal in their opposition?"
David Bates, president of Allied Pilots Association, has been one of the most vocal opponents of these new airport scanners.
"I share our pilots' concerns about this additional radiation exposure and plan to recommend that our pilots refrain from going through the body scanners. We already experience significantly higher radiation exposure than most other occupations, and there is mounting evidence of higher-than-average cancer rates as a consequence."
Despite a claim by the Transport Security Administration that its employees are not sexually assaulting passengers, a flight attendants union with 2,000 members has voiced its outrage over "invasive pat-downs" recently implemented by the TSA.
"We're getting calls daily about peoples' experiences. Our members are concerned," Deborah Volpe, vice president of the Association of Flight Attendants Local 66, told ABC 15 in Phoenix.
Flying Pasties™ is in the process of contacting Mr. Bates and Ms. Volpe and offering the union Flying Pasties™ for their pilots.
"We are aware that our pasties don't cover the whole body but at least the pilots can protect their most sensitive and most susceptible areas and protect their dignity on a daily basis," says Francis. "Our goal all along was to educate the TSA that people desire to keep their dignity yet be safe in the airports. Let's take the pilots' lead and encourage folks to bring their Flying Pasties™ along for the ride."
The company also wishes to work with the TSA in finding a solution to their unnecessary practices. "Finally, people have woken up to the issue presented by these intrusive airport scanners and pat downs! We're here to offer a way to correct the situation." says Robert Curtis, senior advisor.
The first shipment of second-generation Flying Pasties™ will arrive in late November. The 20 new slogans imprinted on them will read: "Only My Wife (or Husband) Sees Me Naked, "Objects in Pasties are Larger Than They Appear," "Only My Civil Union Partner Sees Me Naked" and "What Happens Under Here, Stays Here." Other pasties feature images such as a middle finger, rooster, kitten, cow udders and, of course, the Fourth Amendment pasty featuring the actual amendment in red with stars.
Pre-orders for these pieces will start online during the week of November 15, 2010.
Flying Pasties™ has been seen and heard on: The Today Show, NPR, Wendy Williams, Fox News, Playboy Radio, Playboy Magazine, MSNBC, ABC News, Clare FM, Welt.de, AJC, Sun Sentinel, Wall Street Journal, Las Vegas Weekly etc. And recommended by Gadling.com, travelindustrytoday.com and the Winnipeg Free Press.
Reusable Flying Pasties™ range from around $10 to $40 based on effectiveness and style. Flying Pasties™ encourages interested consumers to visit their website for more details and pricing. And their twitter page for special offer and announcements.
Wholesale order and media requests can be made at flyingpasties(at)yahoo(dot)com.
Flying Pasties™. Giving you back your right to privacy.
http://www.flyingpasties.com
Media contact: Mike Francis, Spokesperson
702-400-0833
email: flyingpasties(at)yahoo(dot)com
Website: http://www.flyingpasties.com
# # #