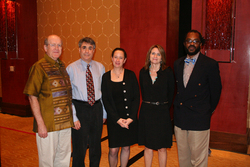 "This year's winners demonstrate the vitality of our profession," says AEA's 2010 President Leslie Cooksy, "and we are all very fortunate to have such talented people doing such important work. "
Fairhaven, MA (PRWEB) November 14, 2010
The American Evaluation Association (AEA) is proud to announce the winners of its 2010 Awards. Honored this year will be recipients in four categories who have helped heighten international evaluation efforts, spearhead a groundbreaking new journal, influence a health initiative that impacted the lives of children and families in five urban communities, and influence a new generation of evaluators who offer greater diversity both within the field and the association. Receiving awards on Friday, Nov. 12, at a ceremony in San Antonio were:
Jim Rugh, an international evaluator with extensive experience on the ground and in the community. A veteran evaluator, Rugh serves as AEA's official representative to the International Organization for Cooperation in Evaluation (IOCE). He also helped found AEA's International and Cross-Cultural Evaluation Topical Interest Group, now one of its largest with 800-plus members. An independent consultant based in Sevierville, Tennessee, Rugh was presented AEA's Alva and Gunnar Myrdal Practice Award.
Jonathan A. Morell, founding editor of Evaluation and Program Planning, an international professional journal launched in 1978 that is still both avidly read and globally relevant three decades later. The Ann Arbor, Michigan resident still serves as editor and will be recognized with AEA's Lazarsfeld Theory Award.
Beth C. Weitzman, a professor of health and public policy at New York University, led a team of evaluators that has won rave reviews for its ability to examine the impact of a 10-year initiative to improve the health and safety of children and youth in large distressed cities that included Baltimore, Md., Detroit, Mi, Oakland, Ca., Philadelphia, Pa., and Richmond, Va. The long-term nature of the evaluation project and its impact at multiple sites made it particularly challenging and comprehensive both in scope and in evaluation efforts. Weitzman's NYU team will be presented with AEA's Outstanding Evaluation Award.
Rodney K. Hopson, AEA's 2012 President, founded AEA's Graduate Education Diversity Internship program in 2003, co-founded a local affiliate in western Pennsylvania in 1999, and has actively contributed to the association since he himself joined as a student in 1988. Now an internationally-recognized professor at Duquesne University in Pittsburgh, Pa., Hopson will be presented AEA's 2010 Robert Ingle Service Award.
AEA is an international professional association of evaluators devoted to the application and exploration of program evaluation, personnel evaluation, technology, and many other forms of evaluation. Evaluation involves assessing the strengths and weaknesses of programs, policies, personnel, products and organizations to improve their effectiveness. AEA has more than 6,000 members representing all 50 U.S. states as well as over 60 foreign countries.
Rugh is a graduate of University of Tennessee as well as Cornell University and is fluent in English, French and Hindi. He has been professionally involved for more than 45 years in rural community development in Africa, Asia, Appalachia and other parts of the world and he has specialized in international program evaluation for 30 years, including 12 years as head of Design, Monitoring and Evaluation for Accountability and Learning for CARE International where he was responsible for promoting strategies for enhanced evaluation capacity throughout that worldwide non-governmental organization (NGO). He has also evaluated and provided advice for strengthening the monitoring and evaluation systems of a number of other international NGOs and is recognized as a leader in the international evaluation profession. Along with Michael Bamberger and Linda Mabry, Rugh was co-author of the popular book RealWorld Evaluation: Working under Budget, Time, Data and Political Constraints, published by Sage in 2006.
Morell is a graduate of McGill University and Northwestern University and is an organizational psychologist who has spent his professional life trying to integrate hands-on evaluation work and theoretical interests in evaluation methodology. Morell founded the international journal EPP in 1978 and has been its sole editor. He is author of Program Evaluation in Social Research, Evaluation and Prevention In Human Services, Prevention Planning in Mental Health, Advances in the Implementation and Impact of Computer Systems, and Personal and Organizational Consequences of Microcomputer Use in the Naval Military Personnel Command. His new book, Evaluation in the Face of Uncertainty: Anticipating Surprise and Responding to the Inevitable once again contributes at the cutting edge of evaluation theory.
Weitzman is a graduate of Vassar College and New York University. Her research interests focus on urban policies affecting poor families and their children; and she has evaluated a range of programs aimed at meeting the health, social service, housing, and educational needs of these families. Weitzman brings to her research extensive experience in program evaluation and in primary data collection. Her work has been published in such journals as Youth and Society, the Journal of Adolescent Health, Health and Place, Public Administration Review, the Journal of Urban Health, and the Journal of Epidemiology and Community Health, and she serves on the editorial board of the American Journal of Evaluation.
Hopson is a graduate of the University of Virginia and the Johns Hopkins Bloomberg School of Public Health. He joined AEA as a student himself almost two decades ago and has served in numerous capacities. He has chaired a topical interest group, helped co-found an affiliate of the association, served on its Board of Directors, founded its Graduate Education Diversity Internship Program and served as its director from 2003-2009 and has taken a lead role in addressing issues of cultural diversity, especially related to the associations' Building Diversity Initiative. His influence has been profound both with the organization, within the field and on the global landscape. He is a gifted teacher, writer, mentor and scholar who completed post-doctoral/sabbatical studies through the University of Namibia, the Johns Hopkins Bloomberg School of Public Health and the Centre of African Studies, Cambridge University. Now the Hillman Distinguished Professor in the educational foundations and leadership department in Duquesne's School of Education, Hopson is also the 2000 recipient of AEA's Guttentag Early Career Award. He was just recently elected AEA's 2012 president and is an active scholar and practitioner in evaluation. A resident of Pittsburgh's NorthPoint Breeze neighborhood, Hopson has a bachelor's degree in English literature, a master's in educational evaluation, a master's in linguistics and a Ph.D. in educational evaluation.
This year's presentation coincided with AEA's 24th annual conference, held in San Antonio, Texas.
###