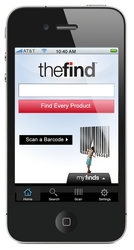 I love that TheFind Mobile provides a seamless experience whether I'm shopping at the mall or from home and it gives me the confidence of knowing that I'll never miss a deal
San Francisco, Calif. (PRWEB) November 15, 2010
TheFind, a social commerce innovator and the fastest-growing, top tier shopping search engine, today launched a first-of-its-kind mobile shopping application that is the holiday shopper's app of choice. Powered by TheFind's patented search technology that finds every product from every store, TheFind Mobile is the only app to seamlessly connect online and in-store shopping experiences along with retail's best barcode scanning and price comparison engine.
"I'm constantly on the go but don't want to sacrifice savings or selection," said Alison Deyette, shopping expert for TheFind. "I love that TheFind Mobile provides a seamless experience whether I'm shopping at the mall or from home and it gives me the confidence of knowing that I'll never miss a deal."
With the Web influencing over 42 percent of all retail transactions, according to Forrester Research, people are clearly doing their homework online before ever stepping foot in a store. At the same time, TheFind notes that holiday shoppers are browsing retail stores during the weekends and after work, continuing or completing their shopping trips once they're back online. The busiest online shopping times on TheFind.com are Monday mornings at 9 a.m. while mobile shopping searches spike after normal office hours and on the weekends.
"To date, standalone mobile shopping apps have fallen short because they cannot connect consumers' in store shopping to consumers' online shopping activity, either before or after they visit a store," said Siva Kumar, CEO of TheFind. "TheFind Mobile works on the simple premise that a mobile app has more utility when it can scan prices in every store and also be integrated – seamlessly – with the savvy way that people shop from their homes."
By installing TheFind Mobile (for free) on their iPhone or Android device and logging in using Facebook Connect, people automatically create a free account on TheFind that helps them keep track of their searches, items they have saved and preferences for specific brands and stores. Consumers can access this account on both TheFind.com and on their phones with TheFind Mobile app. For instance, when someone scans an item in the store, they can also access that item on their computer; and conversely, when a consumer saves items of interest at home, they can instantly recall those items on their mobile phone when they're actually at the store.
In addition, for shoppers who have enabled location-based services on TheFind Mobile, when they scan items within nearby stores, they may receive contextual ads from major national retailers such as Best Buy, geared towards the items they are actually shopping for.
"We are working with TheFind to experiment and better understand how shoppers want to receive offers while they are actually out shopping," said Kumar Kandaswamy, director, API platform business for Best Buy. "We see a lot of potential in communicating our best deals to shoppers not just when they 'check-in' but more importantly as they're ready to checkout and TheFind is playing a valuable role in this effort to connect with customers wherever they are."
TheFind Mobile is available as a free download for iPhone and iTouch at the Apple iTunes Store, equipping shoppers to search, compare and shop with the touch of a finger. TheFind Mobile is also available for models of Android phones at the various Android marketplaces.
Search:
While in a store, TheFind Mobile lets shoppers search for items of interest simply by typing in the product name or scanning the UPC barcode on the packaging. TheFind then instantly taps its index of over 500,000 brands and retailers to quickly populate a list of all the stores selling that particular item, whether they're dot-com or down the street. Users can view product details and images, along with any discounts and coupons offered by each merchant.
"What makes our barcode scans unique is comprehensiveness - our app consistently gives you the most number of offers for any product. And while not all retailers tag their online listings with UPC barcodes, we've leveraged our patented technologies to do that matching for them." says Shashikant Khandelwal, CTO and Chief Search Engineer at TheFind. "The result is that barcode scans using TheFind Mobile provide the most results and the lowest prices, allowing consumers to make an informed decision about purchasing the product they find on the store shelf"
Shoppers can take the search a step further by customizing their results. Create an account through TheFind.com or login with Facebook Connect to save favorite products and stores for a more specific, personalized shopping search experience. For example, saving favorite stores, allows a shopper to quickly see the prices at those stores for a scanned bar code.
Compare and Save:
TheFind Mobile app empowers shoppers to be their savviest selves by providing a comprehensive comparison of the prices, along with coupons and deals offered by all the retailers carrying a certain product. In one place, consumers get the valuable information they need to decide whether to purchase that item at the store they're in, the shop across town having a sale, or the online retailer with free shipping.
Shop:
TheFind Mobile app is seamlessly integrated with TheFind.com so shoppers can search and shop for products on either platform.
Consumers can use the app to shop online while in a store – or anywhere imaginable. If a search identifies the Web as the source for the best deal or turns up an online store as the lone provider of a particular product, the app will direct shoppers to the store's website to purchase the item directly through their mobile device.
Less impulsive shoppers who need some time to sleep on it can add product picks to their MyFinds drawer. Later, they can access the goods through the app or on the computer to finish their research, do another price check, or simply show a friend.
Go to the Apple App Store or Android Marketplace to download TheFind Mobile for free or visit TheFind.com for more information.
About TheFind
TheFind makes it easy to shop, for anything you like, in every store, all at once. Made possible by patented search and discovery technology, TheFind is the fastest growing top-tier shopping engine and the one people return to more than any other according to comScore's measure of comparison shopping engines. Ranked number 12 on the 2010 Inc. 500 list of fastest growing private companies, TheFind was founded in 2005, has been profitable since late 2008, and was venture funded by Bain Capital Ventures, Lightspeed Venture Partners and Redpoint Ventures. TheFind is a San Francisco and Silicon Valley-based company.
# # #