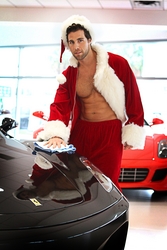 Fort Lauderdale, FL (PRWEB) November 15, 2010
The W Fort Lauderdale – a new oceanfront urban resort – has given "giving" and holiday decor its own special spin this holiday season. Where else but a W Hotel would Santa be a buffed out, sexy "Bliss Guy," his helpers be Miami Dolphins cheerleaders, the sleigh be a red Ferrari and the food donation drop off be a "Food Drive-Thru" in the hotel's sleek porte cachere?
Thanks to a joint effort by the W Fort Lauderdale, the Miami Dolphins Foundation and Ferrari-Maserati of Fort Lauderdale, this first ever charity event kicks off on Tuesday, November 23, from 5:00 pm to 8:00 pm during Fort Lauderdale's "Light Up the Beach" event – a beachfront ceremony that will also commemorate the city's 100th anniversary. That night the W's Grand Valet area will be transformed into Santa's Workshop and 2010's reigning "Bliss Guy," local Antonio Serrano, as well as Dolphins Cheerleaders, will be on hand to greet fans, pose for photos and accept donations.
Running through Dec. 9, the "Food Drive Through" will benefit local community members in need at the holidays. And, as an added incentive to donate, W Fort Lauderdale's generous partners-- including Stephen Starr's STEAK 954, Whiskey Blue and Bliss Spa -- are offering perks and discounts to those that donate a minimum of five pounds of non-perishable items and even greater gifts for supporters that contribute more than ten pounds.
The valet area is accessed on south side of property on Bayshore Dr. off of N. Fort Lauderdale Beach Blvd. Suggested donations include canned and other nonperishable foods like: Canned Meals: Stews, Soups, Tuna, Ravioli, Lasagna, etc. (Pop-top cans a plus!) Grains: Cereal, Rice, Pasta and Dried Beans. Fruits: Fruit cups, Dried Fruit, Applesauce, 100% Juice and Juice Boxes. Kid-Friendly Items: Granola Bars, Popcorn, Graham or Animal Crackers, Fat-free/Sugar-free Pudding Cups.
About W Fort Lauderdale:
W Fort Lauderdale brings "Oceanfront Wow" to the shores of South Florida, positioned directly on Fort Lauderdale Beach and the crystal blue Atlantic waters. With interior design envisioned by acclaimed Clodagh Design, W Fort Lauderdale provides a modern, fully integrated lifestyle experience, including Whiskey Blue, a stylish bar and lounge from famed nightlife entrepreneurs Rande and Scott Gerber; Stephen Starr's STEAK 954, a modern interpretation of the traditional steakhouse; and Bliss® spa, New York's hottest spa. Developed by The DYL Development Group, this sleek, escape-from-the-ordinary hotel features 517 stylishly appointed guest rooms, including 35 luxurious suites, a state-of-the-art gym, glamorous infinity pools and private cabanas, a full-service WIRED business center and W Hotels' signature Whatever/Whenever Concierge Service. 401 N. Fort Lauderdale Beach Blvd, Fort Lauderdale, FL | 954.414.8200 | http://www.whotels.com/fortlauderdale
About The Miami Dolphins Foundation:
The Miami Dolphins Foundation is devoted to providing and supporting signature Education, Health, Youth Athletic Programs and Volunteer Activities that inspire and engage communities throughout Florida. http://www.miamidolphins.com/community/miami-dolphins-foundation
About Ferrari-Maserati of Fort Lauderdale:
Established in 1983, Ferrari-Maserati of Fort Lauderdale is South Florida's oldest and most respected dealer of luxury performance Italian automobiles. The recently renovated, brand-new, state-of-the-art showroom and facility showcases the world's most coveted autos. Ferrari-Maserati of Fort Lauderdale is the only factory-authorized Ferrari and Maserati body shop that also features an award-winning restoration team. The dealership carries a wide array of Ferrari and Maserati parts, accessories, and apparel. Clients have the ability to make service appointments online at its website at http://www.FerrariFL.com, where interested buyers may also find a full list of the current inventory, news and upcoming events. Ferrari-Maserati of Fort Lauderdale is located at 5750 North Federal Hwy. in Fort Lauderdale, FL. For more information please call 954.607.7928.
###