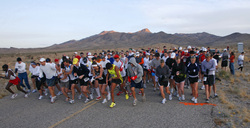 You bet we're happy with the race this year
Las Vegas, NV (Vocus) November 13, 2010
The second running of the Mesquite Marathon scheduled for Saturday, Nov. 20 will begin with a field of more than 500.
The unique event that is run over three states begins on Highway 91 in Utah before winding its way through Arizona and finishing alongside the CasaBlanca Resort.
In addition, yet another key element for the event is that for the second year it will serve as a qualifier for the renowned Boston Marathon.
Needless to say, event promoter Cory Haddock of Mammoth Marathons is more than mildly excited about this year's field, which is apparently touting an equal field of both men and women.
"You bet we're happy with the race this year," said Haddock, who operates races in Grand Junction, Colo.; Garden City, Utah; and Price, Utah, with the help of his brothers Jared and Wayne. "There has been an incredible amount of interest in the Mesquite Marathon especially after an ad was run in Runner's World Magazine.
"We all had a lot of fun in last year's race, and word spread quickly about the success of the 2009 event."
The inaugural event was won by Mario Macias, a 28-year-old youth detention counselor from Alamosa, Colo. The talented runner overtook early leader Sammy Nyamongo, a native of Kenya, before capturing the event with a time of 2 hours, 19.43 minutes over a 26.2 mile course that started with a downhill grade and ended after very challenging hilly conditions and heading west to Mesquite.
The winner averaged 5.18 minute mile runs during the event last year. Nyamongo led the race by as much as three minutes at one point.
Erica Schramm of Las Vegas captured the women's marathon competition with a time of 3 hours, 11.42 minutes. Schramm and Macias won $1,500 each.
The event featuring a marathon along with a half marathon, 10K and 5K events has received big support from the Las Vegas Convention and Visitors Authority, the City of Mesquite and the CasaBlanca Resort Hotel.
The marathon is set to begin at 5:30 a.m., while the half marathon is scheduled for 6:30 a.m. both from the Highway 91 starting line.
The 10K and 5K events are slated to start at the CasaBlanca Event Center beginning at 7:30 a.m. The two runs will make wide loops around Mesquite before finishing at the CasaBlanca Event Center.
Further information can be found by calling Haddock at 801-923-8760, Black Gaming Sporting Event Manager Christian Adderson at 888-711-4653, ext. 15 or by visiting http://www.mesquitemarathon.com.
# # #