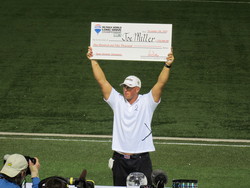 Joe Miller hitting Krank Golf Rage Driver sets New Ball Speed Record of 225 MPH, (Trackman)
Tempe, AZ (PRWEB) November 15, 2010
Joe Miller from London England, hitting the Krank Golf Rage Driver 414 yards brings Krank Golf its first ever Open Division Title, but that is just the beginning of the story. Taking 2nd place hitting the Krank Golf Rage Driver was a 16 year old new comer named Dominic Mazza from California. The youngest hitter to ever qualify for the Remax World Long Drive Championships almost takes down the most coveted crown in Long Driver. This may be the single greatest story in the history of this event. Yes, it was an all Krank Golf Rage Final.
As with most things in life, if one is good two is better. Krank Golf Rage Driver also wins the Senior Division ReMax World Long Drive Championship title. (45 to 49 years old) George "The Animal" Slupski walks through the field to claim his first Championship with the longest drive ever recorded in the Senior finals of 404 yards. Also, Krank Golf founder and President Lance Reader finishes 4th place hitting Rage.
And the story continues: Krank Golf Rage Driver also wins the Legends Division ReMax World Long Drive Championship title. (60 years old and older) Rick Barry NBA Hall of Fame member wins his third World title using the Rage Driver. His past two titles were using the Krank Golf El Diablo Driver. Krank Golf has now developed two Remax World Long Drive Championship Drivers.
For the first time ever http://www.espn3.com broadcast the event live. Click on this link for the Replay of the live competition. ReMax Championship Live The 2010 ReMax World Long Drive Championship powered by Dicks Sporting Goods will be shown on ESPN on Christmas Day.
"I will never forget 2010 Worlds. It was incredible, overwhelming, exhilarating, stressful, painful and humbling all at the same time. Krank Golf made a statement for sure. We now stake claim to the longest hitting, most durable, lowest spin, least face flattening and highest performing golf driver in the world of golf and/or Long Drive. From ages 16 to 67, our Drivers work at all swing speeds and under all conditions. All Krank Golf Drivers are USGA and R&A conforming. We will continue to build on these amazing accomplishments and look forward to expanding worldwide in all possible golf related areas. I want all the Long Drive community to know that we are committed to the Sport of Long Drive and will continue improving our products and will continue supporting the growth of Long Drive to the best of our ability." Says Lance Reader – President – Krank Golf.
Other Accomplishments at Worlds:

Finished 2nd place in the Grand Champion Division
Finished 3rd place in the Super Senior Division
Krank Golf Rage Driver recorded the Longest ball hit at the event at 418 yards
Krank Golf Rage Driver set new World Championship Grid Distance Record during qualifying at 469 yards
Krank Golf Rage Driver set new ball speed record at 225 MPH.
Krank Golf has mainly marketed its Driver via the Internet over the past 8 years. Krank Golf will officially launch into retail stores in 2011.
"We know many golfers will not buy a Golf Driver over the Internet only and yet we have sold over 100,000 Drivers worldwide. It is time to allow stores to carry our amazing Drivers. This among many other marketing directions is the next step in the evolution and expansion of Krank Golf" Says Lance Reader – President – Krank Golf
Krank Golf is certainly known for creating the highest performing golf drivers in the game of golf and in the Sport of Long Drive. Winning a total of 5 Remax World Long Drive Championships and hundreds of official Long Drive events has put Krank Golf on the top of the World of Driver Performance. For more information about Krank Golf Drivers, please visit there website at http://www.krankgolf.com or call them at (480) 699-5041
Distributors and stores can also email Krank Golf at wholesale(at)krankgolf(dot)com for more information.
###