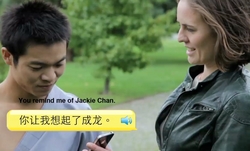 communication tool, intercultural adviser, conversation starter, icebreaker, mood enhancer, language tutor,...
San Francisco, CA (PRWEB) November 16, 2010
yochina, a novel iPhone app for China travel supports deeper understanding by combining travel information, correct translation, cultural knowledge and intercultural advice.
Traveling to China would be so much more enjoyable if we could understand Chinese people, signs, customs and culture. The stay abroad would also be more secure and more effective. A new iPhone program was released today on the Apple App Store that bridges the gap of understanding. The product is called yochina where yo simply means travel. yochina combines phrasebook, travel guide, culture guide and dictionary in a single product. The software does not need an Internet connection so that it can be used everywhere without paying the exorbitant roaming costs.
Dictionary and phrasebook provide questions, requests and complaints for nearly every type of daily situation. Different from other phrasebook apps, yochina lets the user complete phrase patterns so that the number of producible sentences goes into the millions. The Chinese sentences are presented in writing, speech and in the official transliteration Pinyin. Translations are always correct and appropriate for the situation.
A special feature is the built-in possibility for your Chinese conversation partners to select an appropriate answer, which will then be translated back into English. Besides the usual contexts in hotel, store, restaurant, taxi, streets etc., yochina also covers more sophisticated situations such as bargaining, small talk, flirt and medical examinations. Photos may be included in phrases so that one can ask about products, dishes and places which are hard to describe in words.
yochina also provides tons of useful information on country, cities and culture enriched by pictures, maps and special tips. In addition, the user receives comprehensive intercultural advice, e.g. on what to say, wear, do and expect in numerous situations. What are appropriate gifts for a business partner, what does one wear on a funeral, what are touchy issues and do Chinese really eat dogs?
Information and communication are intelligently connected. When the user reads about how one should introduce oneself, the appropriate sentences used in introductions can be directly accessed from there. When the user selects phrases about a lost passport, yochina offers advice and addresses of police and embassies.
When the communication tool was tested in China, the young testers discovered unforeseen additional uses of the clever app: yochina proved also effective as conversation starter, icebreaker, mood enhancer, language tutor and child entertainer.
The program contains a quiz for testing and improving China-competence at four levels. This quiz can also be taken on the yochina website or downloaded from the App Store as a free stand-alone app.
yochina was developed and tested at the Berlin Startup Yocoy over a course of several years by an international team of software engineers, linguists and sinologists who came from the renowned German Research Center for Artificial Intelligence DFKI. Obsessed by the miracles and pitfalls of intercultural exchange, they run their own blog on intercultural experience called "Your China Blog".
For background material such as photos, screen shots, videos go to:
http://www.yocoy.com/yochina/en/press.html
Contact:
Dr. Feiyu Xu
Yocoy Technologies GmbH
Alt-Moabit 91c
10559 Berlin
Germany
Phone: +49 / 160 9032 9095
Fax: +49 / 30 39 49 18 10
Email: yocoy(at)yocoy(dot)com
###