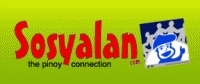 We are calling all Filipino Entrepreneurs to try our Free Classified ads to promote their goods and services for free
West Covina, CA (PRWEB) November 16, 2010
All Filipino entrepreneurs are invited to post classified advertisements at no charge whatsoever in the online marketplace of Sosyalan.com. The free ad can be about goods, services and even job postings. This valuable service being offered by the site will give your business a significant online presence that should generate customer interest and boost sales.
Sosyalan.com's online marketplace, which also caters to those who are searching for a particular commodity, service or even a job, is not its only gem. It also is an online community for everything Filipino, from Philippine-made goods, classic Original Pilipino Music (OPM), homegrown TV shows and award-winning Filipino movies. It is a 'tambayan' (a meeting place) for people to share their ideas and sentiments (via blogging and messaging) and reconnect with fellow Filipinos.
As the name of the site implies, it is a place where people can socialize and catch up on old times and current events. All that is required is a few moments to sign up and once you're in, it will be like you never left home.
About Sosyalan
Sosyalan is one of the Philippines social networking community that allows you to connect with existing friends while also finding others with similar interests. Our activity feed keeps you apprised of what friends are doing. A community for Filipinos all over the world.
Sosyalan features categories such as blogs, events, arcade, OPM, tagalog movies and many other interesting social networking features such as interactive profiles, photos, groups and forums.
# # #