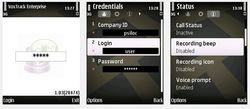 Cell phones are being relied on for conducting business. The obvious advantage is that business can be done anywhere. However, easier communication comes with the challenge to keep track of the business conducted during business calls. DAVOCOM Cellphone
Roswell, GA (PRWEB) November 22, 2010
DAVOCOM Cellphone Call Recording introduces a new way of recording cellphone calls. The software facilitates organizations to record, store and retrieve incoming and outgoing cellphone calls and has a proven trackrecord in Europe. The recorded cellphone calls are stored and archived on a secure server and can be reviewed as needed. The process is user friendly, fully automatic and cost effective. As of today this product is also available for the USA.
The call recording software is created by one of the the world's leading providers of smart phone software solutions and creates innovative applications that let users maximize their smartphone's potential. "Our goal is to offer high-quality software applications for cell phone call recording that are easy to use AND extremely functional. Our main focus is developing client-server mobile applications and sophisticated solutions for enterprising business customers. The key to our success is a deep working knowledge of Symbian OS and the fact that Davocom Cellphone Call Recording works together with the greatest players in the cell phone market," explains Wim Masselink, founder of Davocom Cellphone Call recording.
Record, store and retrieve important cellphone calls
The fact is that more and more cell phone conversations contain critical business information.
Organizations want to record cell phoneconversations for a variety of reasons. Tracking business conversations with clients made while working "on the run," for legal and regulatory compliance needs or as a dispute verification. Using Davocom Cellphone Call Recording guarantees exactly what companies never thought possible. A full archive of agreements made with clients while working "on the run." This software is an excellent choice and facilitates organizations to record, store and retrieve incoming and outgoing cellphone calls.
It has never been easier to record important cell phone conversations. The call recording software is easy to install and use and it is a fully automate solution to ensure recording, archiving and retrieval of cell phone call conversations. The recorded calls are stored on the clients server or hosted on a secure server on the internet.
Cell phone recording software is easy to set up. The user downloads the software on their cell phone and computer and the user can manage when and what cell phone calls to record. Archived cell phone conversations can be accessed via the internet browser of the user's choice.Visit us at and find out what how easy cell phone call recording can be.
###