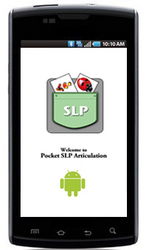 We're in the midst of a digital revolution in speech therapy.
Ruidoso, NM (PRWEB) November 15, 2010
Synapse Apps, LLC announces the release of their popular mobile application, PocketSLP, for the Android operating system. Synapse Apps, a pioneer in speech therapy applications, released their ground-breaking application for the iPhone, iPod Touch, and iPad in March, 2010. The application often hovers in the top ten of highest grossing educational applications in the iPhone application market.
"We're very excited about this product launch," said Corey Walker, a practicing SLP and president of Synapse Apps. "From the first day of our iPhone app release, we've been bombarded with requests to make it available for the Droid. We're confident we'll have a lot of happy therapists now that it's available on this platform."
As practicing speech therapists, the founders of Synapse Apps recognized that using digital tools in their practices could dramatically improve their experiences -- both quantitatively and qualitatively. Therapists have a much more efficient way of providing therapy by capturing the results electronically and avoiding using multiple, physical decks of cards. Additionally, children remain much more engaged and more likely to respond to therapy in a positive way. The application has also been popular among parents with children that have speech delays.
Pocket SLP offers 29 of the most prominently targeted phonemes and consonant blends, including the various vocalic R variations. Therapists or parents can select one or more phonemes that can then be targeted in the initial, medial, and final word positions or all positions at once by utilizing a "mixed" tab. Furthermore, users of Pocket SLP can choose to allow their clients to practice their phonemes at the word or sentence level. As the child attempts to say the word or sentence that corresponds with the pictured image, interactive scoring occurs at the top of the screen as the Correct, Incorrect, or Approximate buttons are pressed. As these buttons are pressed they are accompanied by immediate auditory feedback which can be tailored to the different age ranges of the clients. Results of sessions can be sent via email for record keeping or to advise parents or teachers of progress.
According to Karen-Lopez Walker, co-founder of Synapse Apps and also a practicing SLP, "We're in the midst of a digital revolution in speech therapy. While applications like this could never replace the therapist, they offer tools that can dramatically improve the experience for both therapists and clients."
For additional information on the news that is the subject of this release, visit http://pocketslp.com.
About Synapse Apps: Synapse Apps, LLC is headquartered in Ruidoso, New Mexico. Its principal focus is on technological tools for speech and language therapy. The company was founded by Corey and Karen Walker, a husband and wife team. Both are practicing speech and language pathologists. Synapse Apps partnered with Woelfel Consulting, Inc. in the development of this product.
Contact: Karen-Lopez Walker
Public Affairs,
Synapse Apps
(575) 808-0710
http://pocketslp.com
# # #