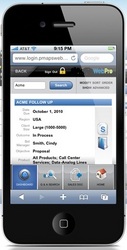 Our clients are rolling out proposal software for mobile devices to reduce the sales engagement process
New York, NY (PRWEB) November 16, 2010
Global KAP, the leader in sales process and document solutions, bid management software and Proposal Management and Production Systems has introduced a proposal writing software for use with mobile SmartPhones facilitating better sales engagement, improved negotiation capabilities and negotiation skills at the principal point of B2B sales contact.
This exclusive new technology provides sales representatives 24/7/365 access to the most current company information improving sales effectiveness dramatically. It further ensures both legal and brand compliance to every customer facing document. Easily deliver marketing proposals, business proposals, sales proposals, brochures and contracts to your clients.
The WebPro Mobile software is accessible on any SmartPhone/Tablet that uses Blackberry (RIM) OS 6, Apple, Android, Windows 7 mobile software, as well as on Symbian software using a webkit enabled browser. It is also able to integrate with SalesForce, Siebel, Microsoft CRM and proprietary customer information database systems.
In introducing this revolutionary business tool to the marketplace, Mr. Fenley, global consultant at GlobalKAP says: "Our clients are rolling out proposal software for mobile devices to reduce the sales engagement process and deliver accurate information instantly to meet their client's expectations. Gain competitive advantage for your sales organization. The ability to produce branded, accurate sales proposals, client documents, marketing materials 24/7/365 from a mobile device is a true competitive advantage. This reduces the steps normally taken in your sales engagement process. Further, in today's fast paced global economy your document content changes rapidly. We automatically update sales document content which is delivered to your client instantaneously by your sales team."
Proposal Software, CEO, John A. Laurino added, "WebPro Mobile revolutionizes the way global workforces of major Fortune 1000 corporations meet the growing demand for requests for proposal, information, and quotes." He added, "The proposal industry continues to grow exponentially even while companies maintain budget and staff cuts across the board."
This proposal management platform contains the most powerful Search Engine available, competitive with Google type search engines. The ability to "search anywhere" with full-text indexing of Word has been expanded to now include, PowerPoint, Excel, HTML and PDF file content -- all within a rigorous compliance management framework. In addition a PowerPoint "Pitch Book" capability was added in the Assembly portion of the module and a revolutionary SalesDocBuilder™ Module was added that provides the sales force with a 'Wizard-driven' ability to comprehensively create and publish any type of totally branded sales proposal from anywhere via a web browser.
Automation Highlights of WebPro Mobile for SmartPhones exclusively available from Global KAP include:

Outperform competitors by providing the correct information expected by clients at the point of sale.
Reduces the steps in your sales engagement process.
Produces an immediate ROI.
Saves time and money across the entire sales and marketing organization.
Enhances negotiation power of the sales team.
Delivers accurate branded proposals and documents 24/7/365.
Backed with 24/7/365 customer support.
Deploys quickly with minimal IT footprint.
Requires minimal training.
Can be used in Blackberry OS6, Apple, android And Windows SmartPhone and Tablet devices.
Can also be integrated with any CRM to provide customized customer facing sales materials.
Reduces client engagement costs and time.
Delivers accurate sales proposals, business proposals, and client facing documents.
Provides web-driven global interface to sales organization.
Assists in achieving the organization's & sales team's "Key Performance Indicators" (KPI's).
Ensures delivery of compliant information in regulated markets.
Provides a sustainable competitive advantage.
Helps to manage projects efficiently & effectively.
About GlobalKap:
Global KAP was established to provide organizations with solutions in their sales revenue processes and documentation solutions. Knowledge management and intellectual property (IP) have been recognized as valued resource. Global KAP establishes the processes of managing your knowledge, your IP your most precious information in your organization.
Our specialized team of consultants at Global KAP helps organizations by providing solutions which address their requirements. For your organization to gain competitive advantages and efficiencies in the sales process, revenue generation, documentation creation (sales proposals, complex tenders, bid management) and management, speak to our consultants.
Our consultants come from all Industry sectors such as IT, communications, defense, government, finance, health, infrastructure, engineering, and many more. Our consultants share their knowledge and support with our clients on a global basis to make your lives easier. To find out more visit http://www.globalkap.com.
# # #