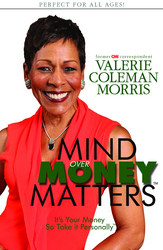 I would tell Shaquille to always be true to yourself and when you set a goal, you do everything that you can to work toward achieving that goal.
Orlando, FL (Vocus) November 15, 2010
Shaquille O'Neal, Ray Allen, The Boston Celtics and the NBA season will be in full swing in January 2011. But you can learn a lot from the mother of an NBA star and meet Lucille O'Neal at 'Design Your Destiny' Personal Empowerment Conference. Get your New Year off to the right start with meaningful resolutions and get inspiration from several of the world's top motivational speakers at this compelling event.
'Design Your Destiny,' produced by Island Free Event & Travel Boutique, is launching its first Personal Empowerment Conference January 7-8, 2011. Design Your Destiny's keynote speakers will provide resources to renew, uplift and empower you spiritually, financially, physically, emotionally. The focus is not only on your business acumen but also your overall physical well being.
During his growing years, Lucille O'Neal always encouraged Shaquille to be the best he could be in whatever he was doing.
"I would tell Shaquille to always be true to yourself and when you set a goal, you do everything that you can to work toward achieving that goal." she said.
In her new book, "Walk Like You Have Somewhere To Go," Lucille O'Neal (http://www.lucilleoneal.com) writes about the importance of each person finding spiritual strength in God. Each chapter of her memoir, depicting her life from that of a single mother without enough confidence to that of a confident and woman of faith. Watch her video here: http://www.youtube.com/watch?v=DiNPFpC3CPc
"I'm grateful to God," she said. "I want to share about the journey. I want to tell people you don't have to stay down. You can pull yourself up."
Business anchor for CNN, Valerie Coleman Morris (http://www.ValerieColemanMorris.com) talked about money every day to 290 million households, businesses and airport networks. She is also a keynote speaker at the 'Design Your Destiny' event.
"Money talks. These days everyone's listening," explained Morris. "I talk about personal finance with people at all levels of financial accomplishment or financial disarray. I'm especially concerned about and committed to people (of all ages) who haven't been schooled in the basics of how money works."
Barbara Walters interviewed Morris on The View (http://theview.abc.go.com) and you can watch that interesting video by clicking on this link: http://www.valeriecolemanmorris.com/vid_3.html
The list of speakers ranks among the top motivational and informational speakers in the world. Each of these experts has been tremendously successful in their own right and will provide interactive group, as well as, individual focus sessions throughout the conference.
A star studded musical gala closes Design Your Destiny. This phenomenal event will include performances by Cleveland Jazz Group Forecast, and national recording artists Conya Doss (http://conyadoss.com) & Dwele. The after party, for those attendees who want some R&R after the conference, is a seven (7) day cruise to Honduras, Belize, Cozumel and the Cayman Islands aboard the luxurious Carnival cruise ship 'Glory.'
"Our guests will leave this conference feeling a sense of renewal and empowerment." says Island Free Travel's owner Kim Creque-Jenkins. "It will be the gift that keeps giving, as we will provide our guests with tools for personal growth which in turn they will be able to take back and share with their businesses and communities.
About Design Your Destiny: A Personal Empowerment Conference
Three (3) packages are available for purchase: Conference Package, VIP Package & VIP Cruise Package. Each package will allow our guests access to all of the empowerment sessions, the Design Your Destiny musical gala and hotel accommodations for two (2) nights at the Doubletree Resort. Conference packages range start at only $350 per person with an additional $100 discount to each conference package purchased before 11/20/2010. VIP guests will receive a variety of perks which include an invitation to our Meet & Greet Cocktail Social, massage & autographed books from our keynote speakers.
About Island Free Travel
Island Free Event & Travel Boutique (IFETB) is a company which specializes in facilitating affordable luxury event & travel experiences. The company operates from two base locations: Houston, Texas and Cleveland, Ohio. Island Free's founder (Kim Creque-Jenkins) bases her expertise from more than a decade of experience in the industry, a keen business acumen, and a strong desire to provide services of this nature to her clientele.
For complete information please visit our website at http://www.DesignYourDestiny2011.com
# # #