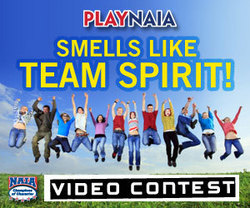 We're excited about the possibilities of using social media contests like this to help students at our member schools show their school spirit and pride
Kansas City, MO (Vocus) November 15, 2010
The National Association of Intercollegiate Athletics (NAIA) announces the launch of PlayNAIA "Smells Like Team Spirit" video contest. High School and college students are encouraged to shoot a video of their school fight song, chant, cheer – or whatever gets fans on their feet. Be original and get your friends (or enlist the marching band) to help. Upload the final video to enter the contest at Smells Like Team Spirit or on facebook.
The Grand Prize winner will receive the Ultimate Game Watching Experience: A tailgater's feast for twenty friends delivered to your door in time for the Buffalo Funds-NAIA Division I Men's Basketball National Championship. The package includes authentic Kansas City BBQ and side dishes, sodas and dessert. Also, the winner will receive 20 PlayNAIA Smells Like Team Spirit T-shirts, and an on-air shout-out during the CBS broadcast of the NAIA Division I Men's Basketball National Championship final, March 22, 2011.
Final entries will be accepted up to 11:59 pm (CST) on Jan. 17, 2011. Public voting is open through Jan. 31, and the winner will be announced Feb. 2.
"We're excited about the possibilities of using social media contests like this to help students at our member schools show their school spirit and pride," said Lori Joseph, NAIA Vice President of Marketing and Communications. "Also, we believe fun social contests help expand awareness of our member colleges and universities among potential student-athletes."
The NAIA recently launched the NAIA Eligibility Center and thousands of students have begun the registration process. Prospective college athletes are encouraged to visit PlayNAIA and explore the world of NAIA college sports. Find out more about NAIA schools, including NAIA college and university locations, and which NAIA schools sponsor specific sports. Plus, visitors can view NAIA college websites and check out photo galleries and links to NAIA championships.
The NAIA Eligibility Center is also a destination for member institutions, parents, high school guidance counselors and coaches. The site features numerous resources and includes a list of frequently asked questions, scholarship information, and details about transfer student eligibility, fees and much more.
About the NAIA
The National Association of Intercollegiate Athletics (NAIA), headquartered in Kansas City, Missouri, is the governing body for athletics programs at its nearly 300 colleges and universities throughout the United States and Canada. The long-held mission of the NAIA is to promote the education and development of well-rounded students and productive citizens through intercollegiate athletics. The Association offers equitable access and opportunities for participation in its 23 national championship events held annually throughout the country.
Today, the NAIA strengthens its commitment to student-athletes and strives to enrich their college experience by supporting academic achievement and character development. NAIA Champions of Character is the association's innovative flagship program designed to instill character values in student-athletes, coaches and youth in the communities it serves.
# # #