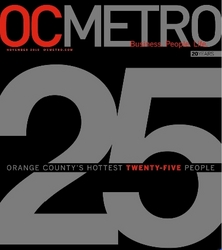 The lineup of Hot 25 honorees never fails to impress me
Newport Beach, CA (Vocus) November 15, 2010
On Wednesday, November 3, 2010, OC METRO honored Orange County's Hottest 25 People of 2010. Honorees were celebrated for shaping Orange County business, philanthropy, the arts and entertainment at The Island Hotel in Newport Beach.
"The lineup of Hot 25 honorees never fails to impress me," said Steve Churm, CEO of Churm Media and publisher of OC METRO. "These are Orange County's movers and shakers – the people shaping business, social, educational and philanthropic circles throughout Orange County," added Churm.
Since 1990, OC METRO magazine, Orange County's leading business lifestyle media brand, has highlighted and honored 25 individuals each year who are making headlines in one of the most diverse counties in Southern California. The 2010 list will mark a total of 525 honorees who have been named one of Orange Counties' hottest 25 people since 1990.
2010 OC METRO Hot 25 Honorees:

Colin Baden, Oakley
Michelle Tingler & Debbie Devine, O-MAMA.com
Dan Young, Irvine Community Development Company
Jim McCluney, Emulex
Rick Hadley, Hawaiian Springs Bottled Water
Scharrell Jackson, Squar, Milner, Peterson, Miranda & Williamson, LLP
Jeff Moore, CB Richard Ellis
Gary Brahm, Brandman University
Gary W. Matkin, University of California, Irvine
Rob Chandler, Fairmont Private Schools
Don Craig, Old Guys Rule
Troy and Josh Rodarmel, Power Balance
Mo Honarkar, 4G Wireless Verizon Wireless
Mark Manguera, Kogi Group/Korean Taco Food Truck
Denise Hazime, DedeMed.com
Michael Stebner, True Food Kitchen
LPA (Architect Firm)
Kate Duchene, CLO, Resources Connection in Irvine
Vicki Dallas, Rutan & Tucker
Mark Robinson, Robinson, Calcagnie & Robinson
Robert Braithwaite, Hoag Hospital, Irvine
Peter Bastone, Mission Hospital
Laura Davick, Crystal Cove Alliance
Paula Golden, Broadcom Foundation
Will Kempton, Orange County Transportation Authority
Everest Climbers: Dr. John Dahlem, Ryan Dahlem, Paul & Denise Fejtek, Cindy Abbott, Mike Chapman
Get an inside look at the event and learn more about this year's Hot 25 honorees by visiting http://www.ocmetro.com.
ABOUT OC METRO
OC METRO is a monthly business and lifestyle magazine published by Churm Media. OC METRO is Orange County's most complete business media brand, delivering daily news through its interactive website, e-mails and the award-winning glossy print version to more than 300,000 readers every month. For more information, visit http://www.ocmetro.com.
ABOUT CHURM MEDIA
Churm Media is a leading regional, full-service media company based in Newport Beach, California. The privately held company publishes five niche consumer magazines and four interactive websites serving readers and advertisers in five Southern California counties — Orange, Los Angeles, San Diego, Riverside and San Bernardino. The company prints and distributes more than 400,000 magazines per month with a total audience — print, online and events — of more than 1.5 million readers/viewers per month.
http://www.churmmedia.com
###