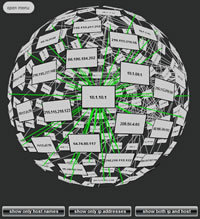 Scrutinizer provided savings to our bottom line and is an integral part of our daily operations.
Sanford, ME (PRWEB) November 23, 2010
Telecommunication service providers not only monitor their own business networks, but they are also responsible for monitoring the networks of hundreds of customers. With these additional connections and access points, they require network monitoring tools to ensure security and to perform accurate and rapid troubleshooting for customers.
With the version 8 release of Scrutinizer NetFlow and sFlow Analyzer from Plixer International, communications providers and businesses can use the new Sphere graphical feature to better visualize their networks. Improvements to the Google Maps feature and dashboard views also assist with improved visualization.
Allo Communications, a Nebraska-based Competitive Local Exchange Carrier, offers telephone, television, and internet services to commercial and residential customers. As their business and services expanded, they required better insight into their network to manage and optimize customer experiences. Colton's team turned to Scrutinizer NetFlow Analyzer from Plixer International, Inc. to get the needed level of detail and visualization.
"I wanted to see detailed history over time, but pie charts just don't provide a complete picture," said Nick Colton, Director of Network Operations for Allo. Scrutinizer's version8 provides additional graphical features and advanced filtering options to assist with more comprehensive network management.
Allo found that some customers were savvy with BitTorrent file sharing protocols and knew how to manipulate traffic patterns to gain unwarranted excessive bandwidth. Because of this, Allo needed to place Quality of Service (QoS) prioritization on Voice over Internet Protocol (VoIP) and internet-based television traffic. Prior to using Scrutinizer, customer troubleshooting was costly and often required dispatching on-site technicians who plugged in a packet analyzer to review bidirectional network traffic.
Similarly, Maine-based telecommunications provider Oxford Networks needed to monitor network uptime to ensure QoS. Because commercial customers often utilize VoIP, Oxford Networks needed a tool to proactively provide detailed information for VoIP trending and analysis. "As our customer base grew, the need for concrete proof of Service Level Agreements became a necessity," said Oxford Networks's IP Engineer, Keith Corson.
Scrutinizer has become increasingly indispensable to Oxford Networks which uses it to monitor both its corporate local area network (LAN) and ISP network and provide enhanced services to customers. "As a value-added benefit, we provide a limited number of our high-bandwidth business customers with access to generate graphs and reporting tools to help them manage their networks," said Corson.
International telecommunications providers also have similar responsibilities to monitor network traffic and provide quality to their customers. 8el provides communication solutions including VoIP telephony, ISP services, and wide area network (WAN) and LAN to over 100 UK businesses. As with Allo Communications and Oxford Networks, 8el knew their solutions were in Cisco System's NetFlow technology to provide deeper insight into internal and customer networks. This technology provided the detailed insight required to isolate network threats and monitor traffic patterns.
Regularly, customers notify 8el of slow connectivity which the 8el Network Operations Center resolves with tools like Scrutinizer. Because the 8el IT team believes customers can often resolve their own issues if they had access to the same Scrutinizer reports, they secured Plixer's Service Provider Module (SPM) which allows 8el's customers access without compromising the security or privacy. The SPM provides customers a secure login to see only their individual traffic.
"Our customers can observe their traffic patterns at anytime," said Karl Jackson, Head of Networks at 8el. "Scrutinizer allows our customers to create their own favorite reports and narrow in on odd traffic patterns."
For Allo Communications, Scrutinizer has become a go-to tool for troubleshooting and decreasing time to resolution. Using Scrutinizer's Google maps network overlay component, the helpdesk can more efficiently solve customer issues without dispatching on-site technicians. If an on-site technician is needed, the technician can eliminate troubleshooting and instead go straight to the problem, reducing Allo's financial costs.
Because telecommunications service providers monitor both their own business networks and those of hundreds of customers, they require tools like Scrutinizer for traffic trending and to forecast bandwidth needs for their own and their customers' future business growth. The version 8 release of Scrutinizer enhances the visualization of the network, allowing administrators to improve QoS and troubleshooting.
"Scrutinizer hasn't only provided savings to our bottom line, but it has become an integral part of our daily operations," Colton said.
In addition to Allo Communications, 8el, and Oxford Networks, other telecommunications providers have also recognized the benefits of using Scrutinizer for their network traffic analysis. Businesses such as AT&T Labs, Inc., Verizon Business Purchasing, and Boingo Wireless have begun taking advantage of Scrutinizer's advanced NetFlow reporting capabilities.
About Plixer International
Plixer International, Inc. develops and markets network traffic monitoring and NetFlow analysis tools to the global market. All of the sFlow, IPFIX and NetFlow tools are built from the ground up with valuable feature sets and ease of use in mind. Plixer tools have been used to analyze and troubleshoot irregular network traffic patterns by IT professionals with some of the largest networks in the world, such as AT&T, Toyota, CNN, The Coca-Cola Company, Lockheed Martin, IBM, Regal Cinemas, Raytheon, and Eddie Bauer.
For product and sales information, contact Plixer International, Inc. at 1 Eagle Drive, Sanford, Maine, via telephone 207-324-8805, via fax 207-324-8683, on facebook, on Twitter, or through the Plixer website at http://www.plixer.com.
###