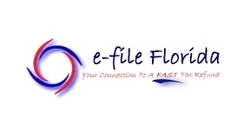 I was nervous about leaving the big chain tax place I have been going to for over 5 years, however I needed my taxes to be handled by a professional. As a first time client, I was totally amazed by E-File Florida! I am now a client for the long haul.
Fort Lauderdale, FL (PRWEB) November 16, 2010
E-File Florida is one of the few tax preparation companies that will still offer Refund Anticipation Loans this tax season. These loans, commonly referred to as "Fast Refund Loans" or "24 Hour Loans" give taxpayers the ability to walk away with tax refund money in their pockets, usually within 24 hrs of e-filing their tax return to the IRS. E-File Florida is conveniently located between Ft. Lauderdale and Miami in Davie, FL. They have been providing expert tax advice and professional tax preparation for over 19 years and service all surrounding areas such as Cooper City, Plantation, Pembroke Pines, Weston, Hollywood and Miramar, FL.
E-File Florida specializes in tax preparation services to individuals and small business owners. They are licensed Enrolled Agents with the IRS. This prestigious designation assures their tax clients that they are receiving expert tax advice and service. Their commitment to continuing education coupled with professional tax experience gives tax customers the assurance that they will always have the lowest possible tax bill and receive the highest possible tax refund legitimately allowed by the Internal Revenue Service. They routinely tackle issues that arise from the ever changing tax code to give their customers the edge in tax planning. High levels of communication are commonplace at E-File Florida. Customers can expect a pro-active approach from this company to keep them informed of the changes that will affect them.
A loyal client following has marked E-File Florida to be one of the best tax preparation companies in South Broward County. They believe in a superb customer experience and it shows through the rave reviews posted online. You can perform a "Google" search on 'E-File Florida' to read what their customers are saying publicly.
As of this writing, it remains to be seen if the major tax preparation chains will offer RAL's at all. E-File Florida is happy to provide this service to those customers that qualify.
###