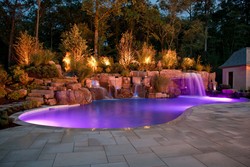 Ramsey, NJ (PRWEB) November 17, 2010
Cipriano Custom Swimming Pools and Landscaping (http://www.PlantNJ.com) won four prestigious 2010 Northeast Spa & Pool Association (NESPA) awards on Friday, November 12, 2010, for glass tile swimming pools, a perimeter overflow spa, and other unique water features designed and created throughout Bergen County, New Jersey.
NESPA judged each pool, spa, or water feature based on the aesthetic qualities of the installation, which includes adjacent decking, landscaping, or other amenities that are part of the pool environment. The water projects were further judged based on workmanship, soundness of design, and safety measures installed. Despite the rigorous judging, swimming pools in Saddle River, Franklin Lakes, Ridgewood, and Paramus, New Jersey each won awards for excellence in swimming pool and spa design.
The swimming pool and landscape in Saddle River won a gold design award. The 1,600 square-foot swimming pool features a spacious, swim-in grotto, four waterfalls, a raised spa, underground waterslide, glass tile finishes, and over 100 fiber optic and LED lights. Complemented by a flourishing landscape above the rocky waterfalls, this waterfall and grotto masterpiece represents nature's beauty with tremendous accuracy. Highlighting the massive swimming pool, the largest waterfall falls over the face of the grotto, creating a peaceful, secluded area of the swimming pool. Inside the grotto, 75 fiber optic star lights and 16 fiber optic spot lights illuminate the inside of the cave. 16 other fiber optic spot lights can also be found along the waterfall structure.
In Franklin Lakes, a swimming pool and spa won the gold award for swimming pools with adjoining spas. This project features a 950 square-foot swimming pool with a perimeter overflow spa. The 86 square-foot perimeter overflow spa showcases an iridescent glass tile finish. The inner corner of the L-shaped pool platforms the raised spa as the highlight of this modern oasis. As water spills over every side of the spa, marine-colored glass tile shimmers in the sunlight. Iridescent glass tile can be found along the waterline of the pool, the pool's large steps, and the entire perimeter overflow walls. The perimeter overflow effect produces a number of intriguing visual displays. On one half of the spa, water flows out of the spa towards the patio and disappears through a small gap between the two, re-circulating it into the pool. The perimeter overflow also allows the water to settle above the walls of the spa, creating a tantalizing effect for friends and family. The unique visuals of this swimming pool and spa, along with an in-floor cleaning system, certainly warrant award-winning recognition.
This APSP International Award of Excellence winner in Ridgewood, NJ won its second award of the year. The small pool features seven hand-crafted sculptures that act as fountains, an antique medallion from the 1920s, a pearl iridescent glass tile floor, custom precast coping and capping, and color fiber optic and LED lights. The Old World elegance of this swimming pool takes pool design to an international award-winning level as it replicates Roman baths with glass tile coating the entire pool. A creative blend of ancient faux stone sculptures and modern fiber optic lights represents a dynamic setting in a small, comfortable back yard.
Finally, a terraced swimming pool and spa in Paramus, NJ, fit with iridescent glass tile, a custom water wall, and fiber optic lighting, won its gold design award with a clever, exciting solution to a small, steep back yard. Adorned with beautiful poolside landscaping and a relaxing, fiber optic water wall, friends and family feel as though they are descending upon a hidden oasis. The water wall showcases a custom glass tile design that glistens with water and reflects radiant fiber optic light from above. The swimming pool and spa also features glass tile at the waterline to match the glowing glass tile water wall.
About Cipriano Custom Swimming Pools And Landscaping:
Celebrating over 20 years in business, international award winner Cipriano Landscape Design is a recognized industry leader in custom residential landscapes, masonry and swimming pools. After a little more than a decade in business, the company catapulted to the top of the state's luxury landscaping and pool industries when it was awarded a $2.5 million residential landscape project. Today, along with the Ramsey, NJ office, the Cipriano family owns a 10-acre farm and nursery in Mahwah, NJ, where large caliper specimen trees and other rare plants are grown. With a design office headed by Certified Landscape Architect William Moore, the Cipriano team won the Northeast Pool & Spa Association's 2007 Best in Competition swimming pool award and in 2009 a Gold medal at Association of Pool & Spa Professional's International Awards of Excellence. Also in 2009, the Cipriano team earned the Certified Building Professional (CBP) credential from the APSP, one of only five custom pool builders in Bergen County to have earned the certification.
About NESPA:
The Northeast Spa & Pool Association (NESPA) is the Northeast affiliate of the Association of Pool & Spa Professionals (APSP). Founded in 1958, NESPA represents the pool and spa industry in the Northeast and serves members through extensive training programs, safety promotions, design competitions and compliance education.
###